Top Etsy Alternatives for E-commerce Success in 2023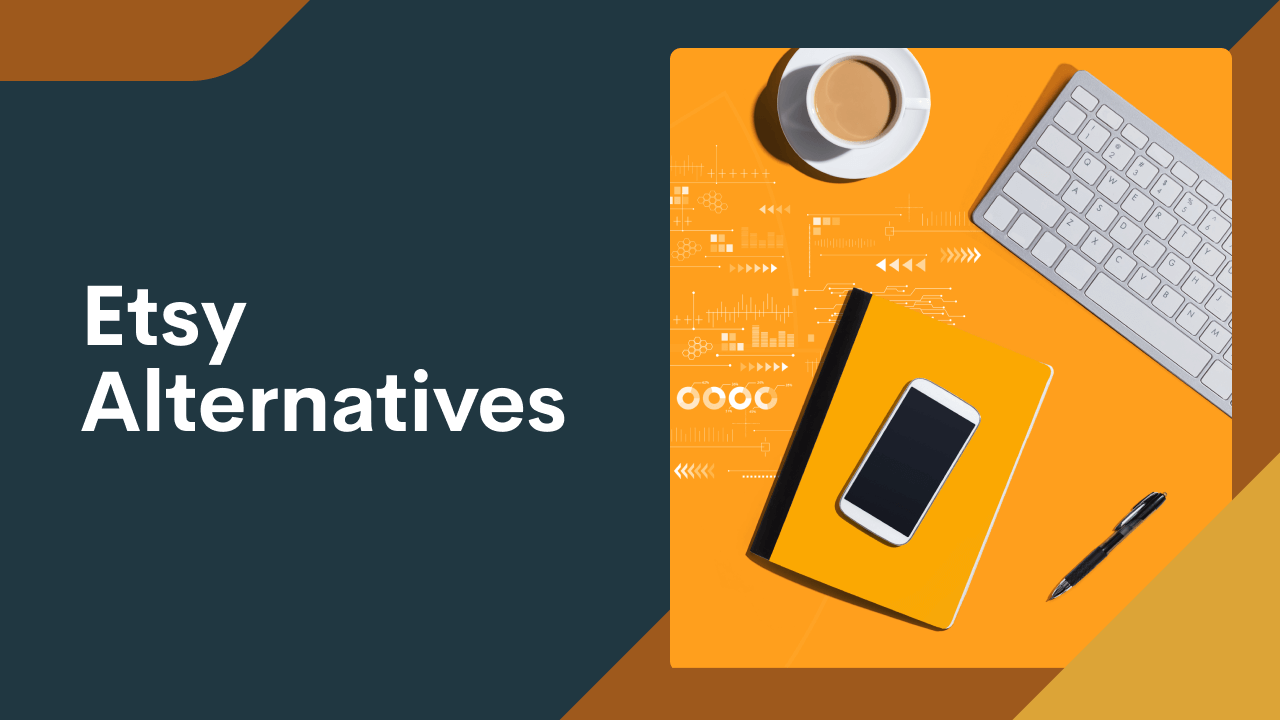 As more and more people look to run successful e-commerce businesses, it's clear that relying on a single platform may not be the best strategy.
Etsy has long been one of the most popular online marketplaces for up-and-coming sellers.
However, there are now many other promising platforms to choose from.
In this article, we'll explore some alternatives that can give you a competitive edge in 2023 and beyond.
Introduction: The Rise Of E Commerce Marketplaces
E-commerce Marketplaces: A Boon for Small Businesses
E-commerce has grown rapidly, with more people shopping online.
Marketplaces like Etsy allow artisans to sell handmade items.
Other marketplaces cater to different niches and offer similar services.
These platforms provide opportunities for small business es without resources for their own e-commerce or physical store.
E-commerce marketplaces aid small businesses.
They reach a wider audience while reducing costs.
Customers can access them easily on multiple devices.
Benefits of E-commerce Marketplaces
Cost-effective: Small businesses can save money by using e-commerce marketplaces instead of setting up their own online store or physical store.
Wider audience: Marketplaces have a large customer base, which means small businesses can reach a wider audience.
Easy access: Customers can access e-commerce marketplaces easily on multiple devices, making it convenient for them to shop.
Marketing: Marketplaces often have their own marketing campaigns, which can help small businesses gain more visibility.
Amazon Handmade: A Popular Etsy Alternative
Amazon Handmade: The Etsy Alternative with a Massive Customer Base
Looking for an Etsy alternative with a massive customer base?
Amazon Handmade could be the solution.
Launched in 2015, it's now one of the most popular alternatives to Etsy, boasting over 10 million products and millions of daily customers.
Integration with Amazon Services
One advantage of Amazon Handmade is its integration with other Amazon services like Prime and FBA (Fulfillment by Amazon).
These features can give your shop an edge since many shoppers expect:
Free two-day shipping through Prime
Fast delivery times thanks to FBA
Being part of the larger ecosystem also makes it easy for buyers to discover your shop while browsing or searching.
Five Key Points
Amazon Handmade is a great platform for sellers who want to reach a wider audience and take advantage of powerful tools to optimize their sales performance
Shopify: An All In One E Commerce Platform For Creatives
Shopify is the go-to e-commerce platform for creatives looking to start their own online business es.
Example of me using AtOnce's Shopify app to manage orders, returns & refunds faster:
With its user-friendly interface and customizable templates, you can easily build and customize your storefront to fit your brand's unique style.
Shopify's Unique Features
One of the standout features of Shopify is its app store, which offers a wide range of free and paid apps for marketing automation,email campaigns, and inventory management
This makes it easy to streamline your business operations and grow your customer base.
Another advantage of using Shopify is its integrated payment system, Shopify Payments.
With no transaction fees, this payment system is a cost-effective option for businesses of all sizes.
However, if you prefer to use other payment gateways like Stripe or PayPal, Shopify supports those options as well.
5 Reasons to Choose Shopify
Bonanza: A Marketplace With Low Fees And A Wide Reach
Looking for a High-Reach, Low-Fee Marketplace?Try Bonanza!
Bonanza is a top-rated online marketplace with over 12 million registered users.
It's a great alternative to Etsy, with low seller fees starting at just 3.5% per sale.
One of the unique features of Bonanza is their Background Burner tool.
This tool removes photo backgrounds to make products look more professional.
Customers love it!
---
5 Reasons to Choose Bonanza
Bonanza is a great alternative to Etsy with low seller fees and a unique photo editing tool.
Low seller fees: Starting at only 3.5%
Over 12 million registered users: More potential customers for your products
Unique Background Burner tool: Make your product photos look more professional
High-quality customer service team: Get the help you need when you need it
Easy to use: Bonanza's user-friendly interface makes it easy to list and sell your products
Bonanza's low fees, high reach, and unique features make it a great choice for online sellers.
Don't miss out on the opportunity to reach millions of potential customers with Bonanza.
Sign up today and start selling!
Big Cartel: Affordable Online Storefronts For Independent Artists
Big Cartel: The E-commerce Platform for Independent Artists
Big Cartel is the perfect e-commerce platform for independent artists to showcase and sell their products.
Established in 2005, it helps emerging artists gain recognition through selling handmade goods or merchandise.
"Big Cartel is the go-to platform for artists who want to sell their products online without the hassle of technical skills."
What Sets Big Cartel Apart?
Big Cartel stands out from other platforms because of its user-friendly interface designed for creative individuals without technical skills.
With a customizable dashboard and diverse themes, creating an online store has never been easier.
Features and Pricing
Big Cartel offers various pricing plans based on the number of products listed.
The pricing plans range from free up to $29.99 per month with advanced features like Google Analytics integration.
Choose Big Cartel because:
Easy customization – no coding knowledge required!
Affordable pricing compared to competitors
"Big Cartel is the perfect platform for artists who want to showcase their products and gain recognition without breaking the bank."
ArtFire: A Community Based Marketplace Focused On Handcrafts And Supplies
Discover ArtFire: The Unique Marketplace for Handmade Crafts and Supplies
ArtFire is the perfect platform for artists who want to showcase their creations and interact with customers directly.
With a focus on handmade crafts and supplies, ArtFire is a unique community-based marketplace that offers a range of benefits to both buyers and sellers.
Join a Supportive Community of Artisans
One of ArtFire's best features is its active community, which provides support and encouragement to fellow artisans.
As an artist, you can join groups based on your craft or interests, get feedback from other members through forums or chat rooms.
"ArtFire's community is a great place to connect with other artists and get feedback on your work.

I've learned so much from the other members and have made some great friends along the way." - Sarah, ArtFire Seller
Why Choose ArtFire?
Here are some great things about ArtFire:
Zibbet: Connecting Makers To Buyers Through Multiple Sales Channels
Zibbet: The Ultimate Alternative to Etsy for Online Store Owners
Zibbet, established in 2009 and based in Australia, is a great alternative to Etsy for online store owners in the world of e-commerce.
This platform offers various features such as product listing management, order fulfillment tracking, and inventory synchronization across different marketplaces.
Zibbet is the perfect platform for online store owners who want to expand their customer base and provide convenient shopping options for buyers.
Connect Directly with Your Target Audience
One unique feature of Zibbet is its ability to connect makers directly with their target audience through popular sales channels like Google Shopping, Facebook Marketplace, and Instagram.
This expands customer bases rapidly while providing convenient shopping options for buyers.
Zibbet's multichannel integration allows online store owners to reach a wider audience without any listing fees.
Redbubble: Print On Demand Site Catering To Visual Artists
Revolutionizing E-commerce Success for Visual Artists
Redbubble is the go-to print-on-demand site for visual artists.
With over 700k active shop owners, the platform offers ample opportunities to showcase creativity and revolutionize e-commerce success
Smart Search Algorithm and Social Media Integration
The platform stands out with its smart search algorithm, curating content based on real-time customer searches.
It seamlessly integrates with social media platforms like Facebook and Instagram, making artwork marketing easier than ever before.
Fantastic Tools for Customization and Communication
Redbubble offers fantastic tools such as Bubble mail that allows users to message each other within the store.
Users can create customized storefronts showcasing their unique style and brand identity
User-friendly interface
Opportunities to showcase creativity
Smart search algorithm
Social media integration
Customized storefronts
Redbubble has revolutionized e-commerce success for visual artists by providing a user-friendly platform with ample opportunities to showcase creativity and connect with customers.
Join the community of successful visual artists on Redbubble today!
Woocommerce Free Open Source ECommerce Plugin That Powers Over 6% Of All Online Stores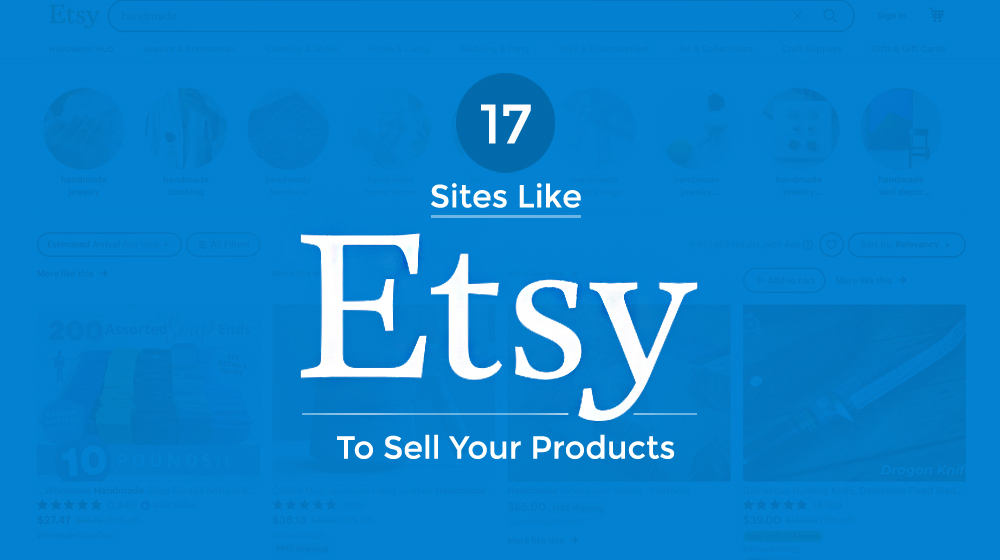 If you're an entrepreneur looking for an alternative to Etsy, consider WooCommerce.
Here's an example where I've used AtOnce's WooCommerce app to manage orders, returns & refunds faster:
This open-source eCommerce plugin powers 6% of online stores and offers flexibility for entrepreneurs to create their own website.
Design and Functionality Flexibility
WooCommerce's key benefit is its design and functionality flexibility.
Choose from customizable themes or build your custom theme with coding skills, making the site stand out in front of visitors.
Customizable themes
Build your custom theme with coding skills
Plugins are available for integration with other software like Facebook, Instagram, Mailchimp email marketing automation tools
Other Reasons to Choose WooCommerce
Easy to use and manage
Scalable for businesses of all sizes
Secure and reliable
SEO-friendly
"WooCommerce is a great option for entrepreneurs looking for an alternative to Etsy.

It offers design and functionality flexibility, customizable themes, and plugins for integration with other software."
Cratejoy Subscription Box Service That Allows Sellers Easily Launch Their Own Subscription Business
Streamline Your Monthly Product Shipments with Cratejoy
Launching a subscription business can be a daunting task, but with Cratejoy, it's never been easier.
Cratejoy simplifies the process by handling all orders at once, allowing you to focus on creating a great product.
Customizable Templates and Easy-to-Use Dashboard
Cratejoy offers customizable templates and an easy-to-use dashboard for managing subscribers, shipping logistics, billing, and more.
With Cratejoy, you can:
Customize branding with flexibility
Handle fulfillment tasks (shipping, returns)
Access exclusive social media promotions and discounts
Integrate major payment gateways like PayPal or Stripe
Get 24/7 customer support via phone or email
With these features, Cratejoy can boost your e-commerce success.
Cratejoy has made it easy for me to manage my subscription business.

The customizable templates and easy-to-use dashboard have saved me time and allowed me to focus on creating great products.

- Sarah, Cratejoy user
Get Started with Cratejoy Today
Don't let the hassle of managing orders hold you back from launching your subscription business.
Handshake B2B Wholesale MarketPlace Helps Retailers Find New Products, Connect With Suppliers & Manage Relationships Easily
Handshake B2B Wholesale Marketplace
Connect with vetted wholesale suppliers and find new products with ease.
Handshake saves time by allowing retailers to browse categories or use keywords for product ideas.
Example where I used AtOnce's AI SEO optimizer to rank higher on Google without wasting hours on research:
With thousands of high-quality suppliers offering competitive prices, Handshake is the go-to platform for wholesale procurement needs.
Benefits of using Handshake:
Access: A diverse range of trusted wholesalers.
Transparency: Regarding minimum order quantities (MOQs) and pricing structures.
Data-driven insights: Into which products perform best.
Organization: Organize orders, track shipments, view payment history all in one place.
Save time: Finding the right supplier while getting quality products at competitive prices.
By utilizing Handshake, you not only have access to an extensive network but also transparency on MOQs & pricing structure along with data-driven insights helping make informed decisions about future purchases!
Handshake provides performance statistics so you can see what's selling well and identify emerging trends or gaps in your inventory.
With Handshake, retailers can easily manage relationships with suppliers and find new products to offer their customers.
You can use AtOnce's AI CRM software to prevent refunds, save hours on emails & avoid headaches:
Handshake is the perfect solution for retailers looking to streamline their wholesale procurement process and stay ahead of the competition.
Join Handshake today and start connecting with trusted wholesalers!
Conclusion Making The Right Choice For Your Unique Business Needs
Choosing the Right E-commerce Platform for Your Business
Choosing the right e-commerce platform is crucial for the success of your business
With so many options available, it can be overwhelming to make a decision.
However, by considering the following factors, you can make an informed choice:
Features
Design options
Pricing
Support
Each platform has its own pros and cons, so it's important to evaluate them based on your individual needs.
Real Feedback from Experienced Users
Before making a final decision, it's essential to read reviews from experienced users.
Example where I used AtOnce's AI review response generator to make customers happier:
This will give you a better understanding of the platform's strengths and weaknesses.
Pay attention to customer service reviews, as it's crucial during problem times.
I use AtOnce's customer service software to answer messages faster with AI:
Prioritize Cost-Effectiveness Over Flashy Designs
While a visually appealing website is important, it's crucial to prioritize cost-effectiveness over flashy designs.
Don't overspend on features that you don't need.
Instead, focus on the features that will benefit your business the most.
Don't overspend on features that you don't need.

Instead, focus on the features that will benefit your business the most.
The Ultimate Solution for Your Copywriting Problems
Do you struggle to come up with the perfect words for your ads, emails, and product descriptions?
Are you tired of spending hours writing blog posts that don't convert? Do you wish there was an easier way to write compelling copy? Introducing AtOnce - Your AI Writing Assistant
Say goodbye to writer's block and hello to AtOnce - the AI writing tool that will transform the way you write forever.
With AtOnce, you can:
Generate high-converting ads in seconds
Create engaging product descriptions with ease
Write killer email subject lines that get opens
Craft blog posts that rank high and convert even higher
The Benefits of AtOnce
AtOnce uses advanced AI algorithms to help you create copy that resonates with your audience, drives conversions, and boosts your bottom line.
Here's what makes AtOnce the ultimate copywriting assistant:
Easy to use, even for non-writers
Generates multiple options, saving you time and effort
Provides real-time feedback and optimization suggestions
Adapts to your brand voice, style, and tone
Optimizes your copy for SEO, readability, and conversions
Why You Need AtOnce
Let's face it - copywriting is hard.
It requires creativity, research, and a deep understanding of your target audience. With AtOnce, you don't have to be a professional writer to create copy that works. AtOnce takes the guesswork out of copywriting and empowers you to:
Save time and money
Increase your ROI
Engage your audience and build brand loyalty
Stand out from the competition and dominate your market
Try AtOnce Today and See the Results
AtOnce is the perfect solution for busy entrepreneurs, marketers, and business owners who want to take their copywriting to the next level.
With AtOnce, you can write copy that converts without breaking a sweat. Don't take our word for it - try AtOnce now and see the results for yourself. Your audience will thank you.
Click Here To Learn More
What are some top Etsy alternatives for e-commerce success in 2023?
Some top Etsy alternatives for e-commerce success in 2023 include Amazon Handmade, Shopify, Big Cartel, and Zibbet.
What makes Amazon Handmade a good alternative to Etsy?
Amazon Handmade is a good alternative to Etsy because it has a large customer base, offers fulfillment services, and has a reputation for fast and reliable shipping.
How does Shopify compare to Etsy as an e-commerce platform?
Shopify is a more customizable e-commerce platform than Etsy, with more options for branding and design. It also offers more advanced features for managing inventory and shipping.
How Lin-Manuel Miranda Gets Things Done
Goal-destroying Mental Habits: Break Them Now in 2023
Streamline Your Blogging in 2023: Top SEO Tools & Tips
2023 Guide: How to Land Venture Capitalist Funding Now!