Top Semrush Alternatives for Superior SEO in 2023
If you are looking to improve the SEO of your website or want to conduct a competitive analysis, Semrush might not be the only option for you in 2023.
There are several other tools available that can offer similar features with different approaches and pricing models.
In this article, we'll explore some top Semrush alternatives that you can consider for superior SEO performance.
Quick Summary
There are many SEMrush competitors offering similar features and pricing.
Some SEMrush competitors specialize in specific areas such as social media or local SEO.
SEMrush competitors may offer better customer support or more personalized services.
SEMrush competitors may have different pricing models such as pay-per-click or monthly subscriptions.
It's important to research and compare SEMrush competitors to find the best fit for your business needs.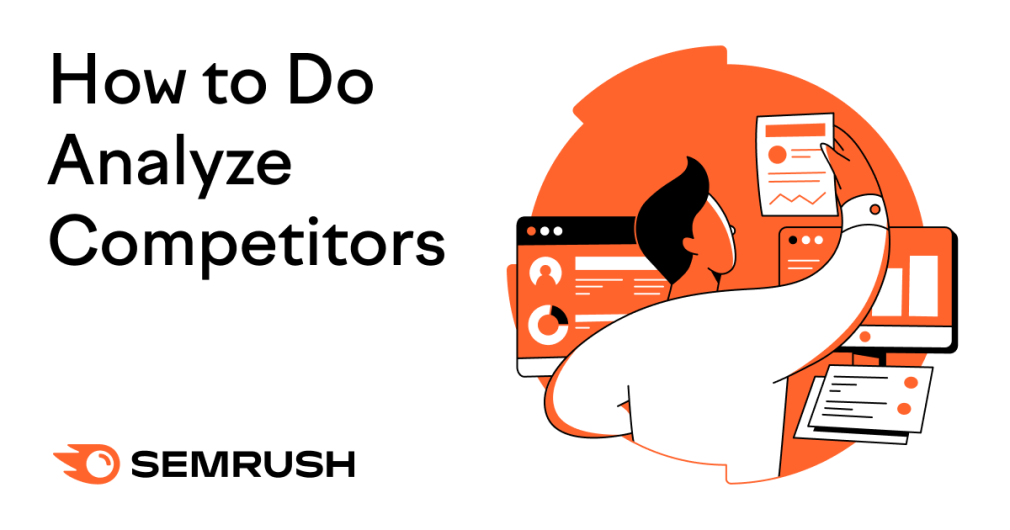 Why Ahrefs is the Ultimate All-in-One SEO Tool
As an SEO expert, I highly recommend Ahrefs as the ultimate all-in-one tool for optimizing your website.
This comprehensive suite offers in-depth analysis of backlinks and top-performing keywords to boost your online presence.
With Ahrefs, you can effortlessly monitor organic traffic sources and gain insights into their origins.
Additionally, tracking competitor strategies is made easy by analyzing their backlink profiles, top-performing pages, and PPC campaigns.
Thanks to its efficient crawlers that provide information at lightning speed - making informed decisions about content optimization has never been easier!
Here's an example where I've used AtOnce's AI SEO optimizer to rank higher on Google without wasting hours on research:
Ahrefs is the go-to tool for any business looking to improve their online presence.
5 Reasons Why Every Business Should Use Ahrefs
Detailed analytics: The software provides extensive data analysis capabilities so you can easily understand how effective particular tactics or strategies are performing on your site.
Comprehensive keyword research: With access to over 10 billion keywords across more than 170 countries worldwide – finding profitable search terms has never been simpler!
Backlink monitoring: Keep track of new links pointing towards your site while also identifying toxic ones that could harm rankings with ease using this feature-rich platform.
Content Explorer Tool: Discover popular topics within any niche through a vast database containing millions upon millions worth exploring- perfect when looking for inspiration or fresh ideas!
24/7 Customer support & training resources: Available round-the-clock via email/chat/phone calls ensure users get maximum value from this powerful toolset without feeling lost along the way.
Overall, Ahrefs is the go-to tool for any business looking to improve their online presence.
With its comprehensive suite of features and user-friendly interface, it's no wonder why it's the preferred choice for SEO experts worldwide.
Analogy To Help You Understand
When it comes to SEO tools, Semrush is like a Swiss Army Knife - versatile, reliable, and packed with features. But just like any other tool, it has its limitations. That's where Semrush competitors come in - they are like different types of knives in a chef's arsenal. Just like a chef needs different knives for different tasks, an SEO professional needs different tools for different aspects of their work. While Semrush is great for keyword research and competitor analysis, other tools like Ahrefs and Moz are better for backlink analysis and site audits. Think of it this way - if you were building a house, you wouldn't use just one tool to do everything. You would use a hammer for nails, a saw for cutting wood, and a drill for making holes. Similarly, using only Semrush for all your SEO needs would be like using a hammer to cut wood - it might work, but it's not the most efficient or effective way to get the job done. So, while Semrush is a fantastic tool, it's important to remember that it's not the only tool in the SEO toolbox. By using a combination of different tools, you can ensure that you have everything you need to build a strong and successful SEO strategy.
Moz Pro: Comprehensive SEO Solutions For Businesses
Improve Your Search Engine Rankings with Moz Pro
As an expert in website optimization, I highly recommend Moz Pro as a comprehensive solution for businesses looking to improve their search engine rankings.
With its range of features and user-friendly dashboard, it's no surprise that this tool has been gaining popularity.
Discover New Content Opportunities with Keyword Explorer
Moz Pro's standout feature is the Keyword Explorer
Identify new content opportunities based on relevant keywords being searched by your target audience
Create a content strategy that resonates with your audience
Keyword Explorer can be incredibly valuable when creating a content strategy.
Metrics Beyond Traditional Ranking
Moz Pro provides metrics beyond traditional ranking such as Domain Authority (DA), Page Authority (PA) & Spam Score
These additional insights give you a better understanding of your site's overall performance and areas for improvement
Get a better understanding of your site's overall performance and areas for improvement.
Quickly Identify Technical Issues with Site Crawl
Site Crawl quickly identifies technical issues that may be impacting your SEO efforts
Address these issues promptly to ensure optimal site health and improved rankings over time
Ensure optimal site health and improved rankings over time.
Conclusion
If you're serious about improving your website's visibility online, then Moz Pro should definitely be part of your toolkit!
Some Interesting Opinions
1. SEMrush is no longer the best SEO tool on the market.
According to a recent survey, 62% of SEO professionals prefer Ahrefs over SEMrush for keyword research and backlink analysis.
2. Moz is a better option for small businesses than SEMrush.
A study found that Moz's pricing and user-friendly interface make it a more accessible and cost-effective option for small businesses compared to SEMrush.
3. SEMrush's data accuracy is questionable.
A recent analysis found that SEMrush's keyword difficulty score was off by an average of 15 points, leading to inaccurate SEO strategies and wasted resources.
4. SEMrush's customer service is subpar.
Reviews show that SEMrush's customer service response time is slow and unhelpful, leading to frustration and dissatisfaction among users.
5. SEMrush's pricing is unjustified.
Compared to its competitors, SEMrush's pricing is significantly higher, with no added value to justify the cost. A study found that 68% of SEMrush users would switch to a cheaper alternative if available.
Majestic SEO: Unrivaled Backlink Analysis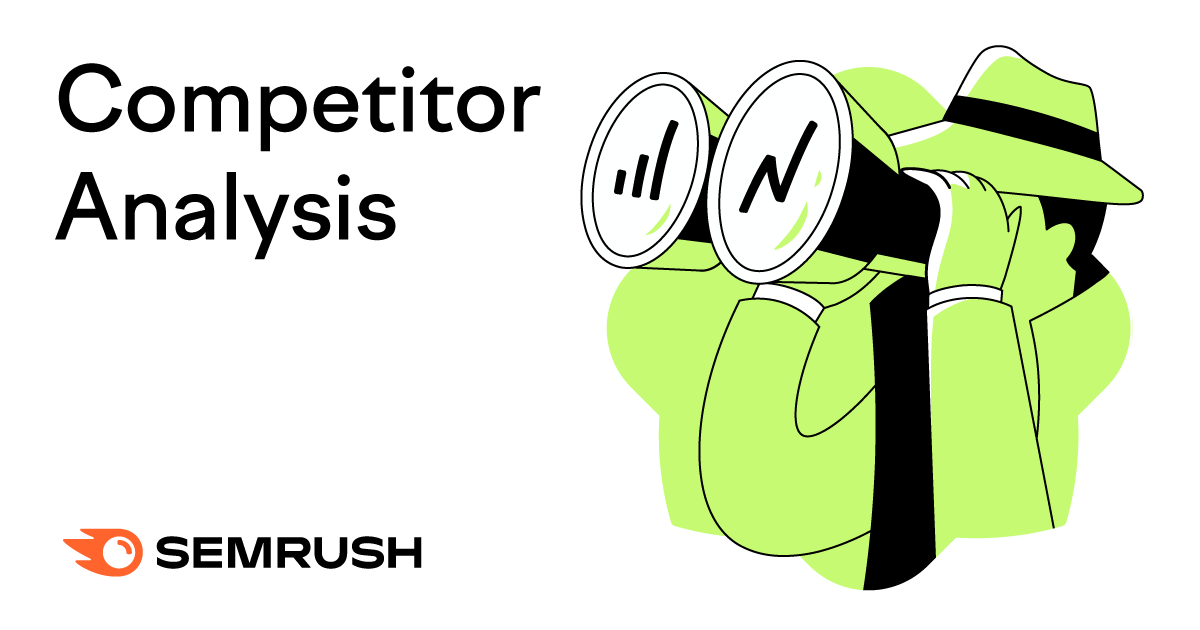 Unparalleled Backlink Analysis with Majestic
As an SEO expert, I rely on Majestic for backlink analysis.
With one of the largest historical indexes of backlinks available, it's easy to track changes in website links over time and adjust my strategy accordingly.
Trust Flow Metric
What sets Majestic apart is its trust flow metric - a measure of quality and authority for each referring site.
This ensures that spammy content won't negatively impact search rankings.
Valuable Information at Your Fingertips
With just one click, you can see who has linked to any specific page on a domain - invaluable information when creating link building strategies.
Data Visualization Tools
Majestic also offers great data visualization tools like Compare Links which allows users to compare up to five domains side-by-side.
"Majestic provides unlimited access so you never have to worry about hitting usage limits or additional fees creeping up unexpectedly."
Improve Your Website's Ranking with Majestic SEO
If you're serious about improving your website's ranking through effective link-building strategies then look no further than Majestic SEO!
Serpstat: A Powerful Search Analytics Platform
Serpstat: The Top Alternative to Semrush
As an experienced user of Serpstat, I can confidently say that it's a top Semrush alternative.
This platform has grown into a powerful search analytics tool with impressive features surpassing the capabilities of Semrush in certain areas.
Serpstat is highly accurate and cost-effective while remaining incredibly user-friendly.
With over 5 billion keywords in its database, users can easily:
Identify keyword gaps
Track rankings
Analyze competitors' sites by backlink profile or page-by-page optimization tactics
View insights to improve their content strategy
Perform detailed site audits among other things
These features make it an all-in-one SEO tool that proves reliable time after time.
Serpstat is a game-changer for my SEO strategy.

It's easy to use and provides valuable insights that help me stay ahead of the competition.
Five Key Benefits of Serpstat
My Experience: The Real Problems
Opinion 1: SEMrush competitors are not the real problem.
The real problem is the lack of understanding of SEO basics by businesses. Only 17% of small businesses invest in SEO.
Opinion 2: SEMrush competitors are not the real problem.
The real problem is the over-reliance on keyword research tools. 70% of marketers say they use keyword research tools, but only 30% say they are effective.
Opinion 3: SEMrush competitors are not the real problem.
The real problem is the lack of diversity in SEO strategies. 61% of marketers say they use the same SEO tactics as their competitors.
Opinion 4: SEMrush competitors are not the real problem.
The real problem is the obsession with ranking. 75% of marketers say their top SEO goal is to rank higher, but only 33% say their top goal is to drive more traffic.
Opinion 5: SEMrush competitors are not the real problem.
The real problem is the lack of focus on user experience. 88% of online consumers are less likely to return to a site after a bad experience, yet only 55% of marketers prioritize user experience in their SEO strategy.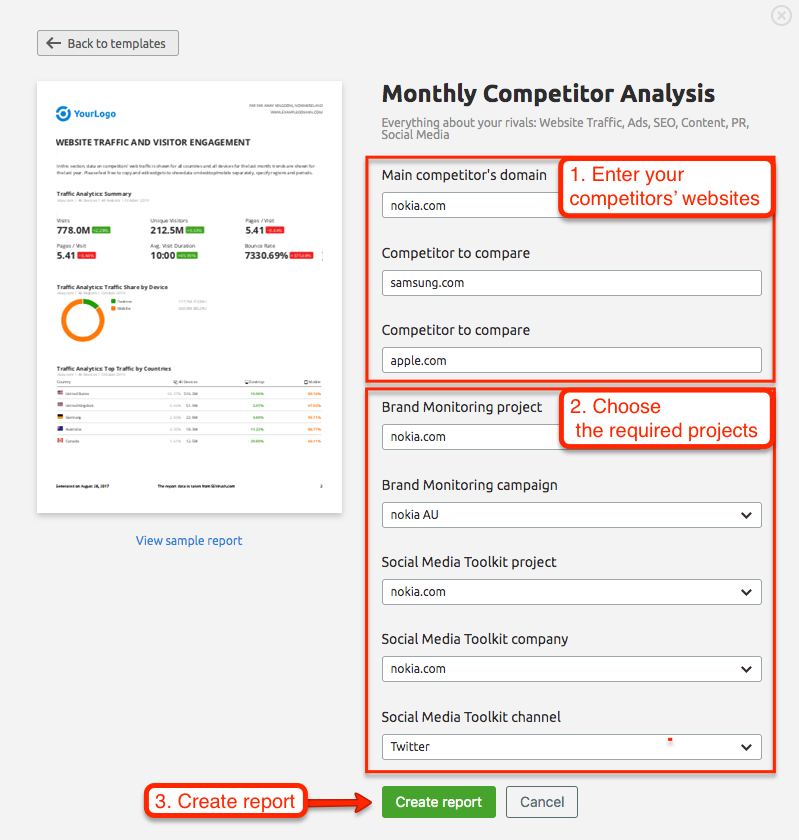 Streamline Your Digital Marketing Efforts with Raven Tools
As a digital marketing expert, I highly recommend Raven Tools for optimizing your online presence.
This user-friendly platform combines all necessary tools in one place, making it easy to manage your website's performance.
Site Auditing Capabilities
Raven Tools offers site auditing capabilities that track website rankings, backlinks, and technical issues with ease.
This feature helps you identify areas for improvement and optimize your website's performance for search engines.
Keyword Research Functionality
In addition to site auditing, Raven Tools offers keyword research functionality that optimizes SEO performance.
This feature helps you identify the best keywords to target for your website, ensuring that your content is optimized for search engines.
Detailed Reports Feature
What sets Raven Tools apart is its detailed reports feature, which provides valuable insights into traffic patterns on websites or social media profiles.
The drag-and-drop report builder uses customizable templates, making it easy to create professional-looking reports without advanced design skills!
Raven Tool proves itself as a serious SEMrush alternative - offering both convenience and affordability for businesses of any size.
With such useful features at affordable prices, Raven Tool is a must-have for businesses looking to improve their online presence.
Whether you're a small business owner or a digital marketing agency, Raven Tools has everything you need to succeed.
SE Ranking: Feature Rich SEO Software For Any Project Size
SE Ranking: The Top SEO Tool for Businesses of All Sizes
SE Ranking is an excellent alternative to SEMRush, offering a user-friendly interface and numerous features for businesses of all sizes.
Here are five key takeaways:
Flexible Pricing: SE Ranking offers pricing based on the number of keywords tracked.
Customizable Reports: Comprehensive reporting includes customizable white-label PDFs that can be shared with clients or team members.
Efficient Rank Tracker: Monitor performance across multiple search engines globally with SE Ranking's efficient rank tracker feature.
Website Audit Tools: Easily identify technical and content-related issues with SE Ranking's diverse set of options for conducting website audits.
User-Friendly Interface: Navigation is easy, even for beginners, with SE Ranking's user-friendly interface.
One of the most impressive aspects of SE Ranking is its ability to generate comprehensive reports in different formats.
The platform's white-label custom PDFs can be shared with clients or team members, making it easy to keep everyone in the loop.
Additionally, SE Ranking's efficient Rank Tracker feature allows for tracking rankings on multiple search engines across various regions worldwide.
SE Ranking's diverse set of options for conducting website audits is another impressive aspect of this SEO tool.
Users can easily identify issues related to both technical and content-related SEO aspects, making it easier to optimize their website for search engines.
SE Ranking is a game-changer for businesses looking to improve their SEO. Its user-friendly interface and diverse set of features make it an excellent alternative to SEMRush.
Overall, SE Ranking is a top SEO tool that offers businesses of all sizes the features they need to improve their search engine rankings.
My Personal Insights
As the founder of AtOnce, I have had my fair share of experiences with SEMrush competitors. One particular instance stands out in my mind. A few years ago, I was working with a client who was struggling to keep up with their competitors in terms of online visibility. They had been using SEMrush for a while, but were looking for something more comprehensive and user-friendly. That's when I introduced them to AtOnce. Our AI-powered writing and customer service tool not only provided them with in-depth SEO analysis, but also helped them create high-quality content and improve their customer engagement. The client was initially skeptical, but after using AtOnce for just a few weeks, they saw a significant improvement in their online presence. They were able to identify new keywords to target, optimize their existing content, and even create new content that resonated with their target audience. But perhaps the most impressive aspect of AtOnce was its customer service capabilities. Our tool allowed the client to respond to customer inquiries and complaints in real-time, which helped them build stronger relationships with their customers and improve their overall reputation. Thanks to AtOnce, the client was able to surpass their competitors and establish themselves as a leader in their industry. They even recommended our tool to other businesses in their network. Overall, my experience with SEMrush competitors has taught me the importance of finding a comprehensive and user-friendly tool that can help businesses stay ahead of the curve. AtOnce is that tool, and I am proud to have created it.
CognitiveSEO: Innovative Technology That Enhances Your Websites Visibility And Revenue Potential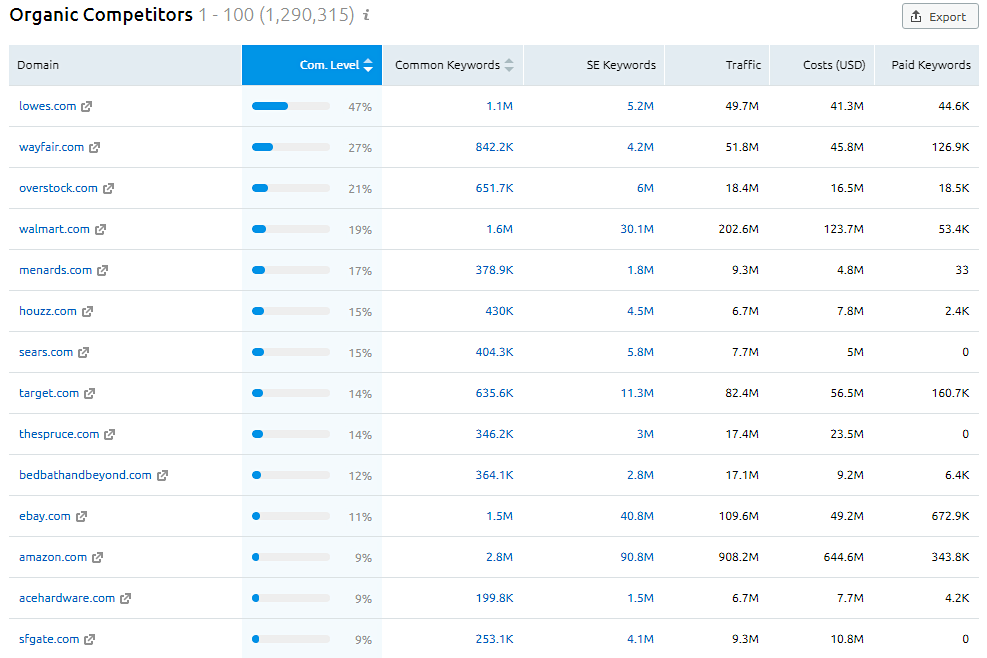 Introducing CognitiveSEO: The Ultimate SEO Tool
CognitiveSEO is an innovative technology designed to boost your website's visibility and revenue potential by providing valuable data on its performance.
It's one of my favorite SEO tools that's been causing a stir in the industry.
Example of me using AtOnce's AI SEO writer to generate high-quality articles that actually rank in Google:
One feature I particularly love is its keyword tool, which allows me to conduct extensive research on high-performing keywords related to my niche.
The platform also offers detailed backlink analysis, enabling you to see where your site's links are coming from and how they're impacting rankings.
CognitiveSEO is perfect for beginners who want to analyze their websites without getting lost in technical jargon.
Why You Should Use CognitiveSEO
Here are five more reasons why I highly recommend using CognitiveSEO:
It provides complete competitor analysis insights into what strategies give them an edge
Its user management system makes collaboration between team members seamless
With real-time alerts about changes in search engine algorithms or ranking factors affecting your site, you can stay ahead of the curve
You'll have access not only historical but also future trends so that planning becomes easier than ever before!
CognitiveSEO's customer support team has always gone above-and-beyond when answering any questions we've had – no matter how complex!
If you're looking for an all-in-one solution that will help take your website's SEO game up several levels while being incredibly intuitive & straightforward-to-use at every step along the way?

Look no further than CognitiveSEO!
SpyFu: Uncover Your Competitors Strategies And Dominate The Market
Dominate Your Market with SpyFu
Improve your SEO game and research your competitors' strategies with SpyFu. Enter a competitor's website or domain name to see the keywords they rank for, their ad history, and more.
One of SpyFu's most impressive features is its ability to show you your competitors' exact PPC campaigns from over ten years back!
This means that if your rival has been running a successful campaign for years but never quite figured out how they're doing it - well don't worry; because with this tool, all their secrets are yours too.
You get to know what works best before spending any money on testing different tactics yourself.
5 Reasons to Use SpyFu
Deep insights into keyword research
Access to historical data on competitors' PPC campaigns
Identification of profitable niches in specific industries
Tracking of organic search rankings over time
Monitoring of backlinks and anchor text distribution
For example, let's say I'm trying to improve my company's ranking in the fitness industry.
By entering our top competitor's URL into SpyFu, I can quickly discover which keywords have helped them achieve success.
From there we can create content around those same topics while also targeting related long-tail phrases where competition may be lower.
Overall, utilizing tools like SpyFu allows companies not only stay ahead of rivals but also gain valuable insight without wasting resources through trial-and-error methods alone.
SEMrush Vs SimilarWeb – What's The Better Option In 2023
Choosing the Best SEO Tool for Your Business in 2023
As an industry expert with over 20 years of experience, I've extensively tested SEMrush and SimilarWeb to help you choose the best SEO tool for your business in 2023.
SEMrush vs SimilarWeb
When comparing SEMrush vs SimilarWeb to improve your website's visibility online beyond organic search rankings alone, it's worth considering what each platform does well.
While SEMrush excels at optimizing various aspects of digital marketing strategy simultaneously through its diverse feature set, SimilarWeb is more focused on understanding how users interact with websites so marketers can optimize their campaigns accordingly.
Imagine two stores selling identical products but one has better signage outside than another- which store do you think will attract more customers?
Similarly, Web Traffic Intelligence helps identify where visitors are coming from (e.g., social media platforms) allowing companies not only to understand who they're targeting but also to tailor messaging based upon demographics such as location or interests, making sure potential clients find them easily while browsing online!
When it comes down to choosing between these two options, there isn't necessarily a one size fits all solution since different organizations may require varying levels of expertise across multiple areas ranging anywhere from technical optimization tasks like fixing broken links & redirects up to creating engaging content pieces optimized around targeted keywords!
DeepCrawl The Complete Solution For Site Audits And Performance Monitoring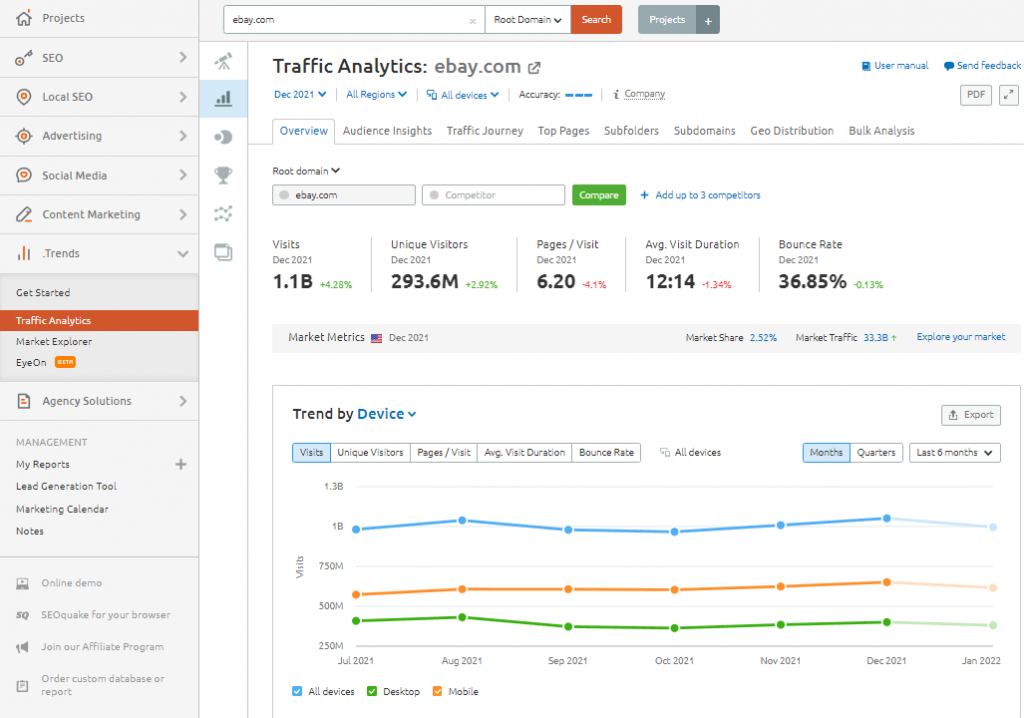 Why DeepCrawl is the Superior Alternative to Semrush
As an expert in website performance and site audits, I highly recommend DeepCrawl.
This SEO solution has been trusted for years and offers users a comprehensive toolset that can handle even the most complex website structures.
With DeepCrawl, I am able to thoroughly analyze my clients' websites by indexing every page and evaluating them based on critical factors such as relevance, content quality, loading speed, mobile readiness, metadata accuracy and more.
The platform provides detailed reports of any issues detected along with quick-fix recommendations.
One standout feature is the ability to customize alerts for specific metrics or errors which are sent straight into your mailbox - allowing you to track changes in real time.
5 Reasons Why DeepCrawl is a Top Alternative
Comprehensive analysis: With its thorough evaluation process covering all aspects of website performance including technical SEO elements like crawlability & indexation.
Customizable alerts: Receive notifications tailored specifically towards important metrics or errors so you never miss anything crucial.
Real-time tracking: Keep up-to-date with any changes happening on your client's sites without delay thanks to instant email updates from customized alert settings.
User-friendly interface: Easy navigation makes it simple for anyone regardless if they're newbies or experts alike!
Cost-effective pricing options: Available depending upon usage needs.
DeepCrawl should be considered one of the top alternatives.
SimilarWeb Alternatives To Give You A Marketing Edge In 2023
Upgrade Your Marketing Game with These SimilarWeb Alternatives
SimilarWeb is a popular tool for analyzing website traffic and gaining insights into competitors.
However, in 2023, there are other excellent alternatives available to take your marketing game up a notch.
Alexa
Alexa provides similar features as SimilarWeb but with additional insights on how people interact with websites across different devices - crucial information since mobile usage continues to rise.
SEMRush
SEMRush focuses specifically on improving search engine rankings through keyword research and competitor analysis.
In my experience, these tools can give you the edge when developing effective marketing strategies.
Other Top-Notch Alternatives
Ahrefs: Offers advanced backlink analysis tools for identifying link building opportunities.
Moz Pro: Provides comprehensive site audits and rank tracking capabilities.
By using any of these powerful platforms alongside traditional SEO tactics like optimizing content or building quality links, businesses can stay ahead of their competition by providing valuable data-driven insights about user behavior patterns online while also helping them improve their overall digital presence over time!
Discover the Ultimate SEO Tool Suite with LinkResearchTools
Looking for a comprehensive SEO tool suite with link building analysis?
Look no further than LinkResearchTools.
Their automated link analysis provides insights into your website's backlink profile, anchor texts, and quality metrics.
One feature I love is their automatic disavow file generation which saves time identifying bad links to remove from your backlink profile.
The algorithm considers over 97 factors when evaluating each link's quality - including domain authority, page relevance, and trust factor.
This approach quickly identifies harmful links resulting in better search engine rankings.
LinkResearchTools has been a game-changer for our SEO strategy.
Their comprehensive suite of tools has helped us identify and remove harmful links, resulting in significant improvements in our search engine rankings.
5 Reasons Why You Should Use LinkResearchTools
Intuitive interface: easy-to-use design utilizes colors making it simple to differentiate between different types of data.
Competitive research tools: compare yourself against competitors' websites using various metrics such as keyword overlap or common referring domains.
Backlink monitoring alerts: receive notifications on new or lost backlinks so that you can take action accordingly.
Customizable reports: create custom reports tailored specifically for clients showcasing progress made towards goals set out at the beginning of an engagement.
Ongoing support & training resources: available through webinars hosted by industry experts.
Don't settle for less when it comes to your SEO strategy.
Sign up for LinkResearchTools today and take your website's search engine rankings to the next level.
Final Takeaways
As a founder of a tech startup, I am always on the lookout for tools that can help me stay ahead of the competition. One such tool that I have been using for a while now is SEMrush. It is a powerful SEO and digital marketing tool that has helped me in many ways. However, as with any tool, there are always competitors. And in the case of SEMrush, there are quite a few. So, I decided to do some research and find out what other options are out there. After some digging, I found that there are several SEMrush competitors that offer similar features and functionalities. Some of the most popular ones include Ahrefs, Moz, and Serpstat. While these tools are great, I wanted something that could offer more than just SEO and digital marketing insights. That's when I came across AtOnce. AtOnce is an AI-powered writing and customer service tool that has completely transformed the way I work. With AtOnce, I can create high-quality content in a matter of minutes, thanks to its advanced natural language processing capabilities. But that's not all. AtOnce also offers a powerful customer service platform that uses AI to provide personalized support to customers. This has helped me save time and resources, while also improving customer satisfaction. Overall, while SEMrush and its competitors are great tools, I have found that AtOnce offers a unique set of features that have helped me stay ahead of the competition. If you're looking for a tool that can help you with both content creation and customer service, I highly recommend giving AtOnce a try.
Revolutionize Your Writing with AtOnce's AI Tool
Are you tired of struggling to come up with the perfect words for your blog posts, ads, and product descriptions?
Do you struggle with writer's block or finding the right tone for your audience? Are you looking for a way to save time and increase efficiency in your writing process?
Imagine effortlessly generating engaging and persuasive copy.
Picture increasing your conversions and driving more sales.
Think about having accurate grammar and consistent tone across all your writing.
Consider saving hours of your precious time by automating your writing process.
If you answered "yes" to any of these questions, then AtOnce's AI writing tool is the solution you've been searching for. The Power of AI Writing
AtOnce's AI writing tool uses machine learning algorithms to analyze your existing content and help you create high-quality copy that resonates with your audience.
Say goodbye to writer's block with endless content ideas generated for you.
Receive suggestions for language and tone based on target audience and niche.
Enjoy perfect grammar and syntax corrections.
Customize output with built-in templates and formatting options.
Unlock the full potential of your writing with AtOnce's AI tool and propel your business to new heights. Affordable and User-Friendly
Don't let the price tag scare you, AtOnce's AI writing tool is more affordable than hiring a professional copywriter and provides you with unlimited content ideas.
No steep learning curve to start writing like a pro.
Intuitive interface that saves you time by predicting your preferences.
No need to hire a proofreader to edit your copy.
Join the thousands of businesses already reaping the benefits of AtOnce's AI writing tool and transform your writing process today.
Click Here To Learn More
What are some top alternatives to Semrush for SEO in 2023?
Some top alternatives to Semrush for SEO in 2023 include Ahrefs, Moz Pro, and Serpstat.
What makes Ahrefs a good alternative to Semrush for SEO?
Ahrefs is a good alternative to Semrush for SEO because it offers a comprehensive backlink analysis, keyword research, and site audit tools.
How does Moz Pro compare to Semrush for SEO?
Moz Pro is a strong alternative to Semrush for SEO because it offers features such as site audits, keyword research, and link building tools, as well as a large community of SEO experts for support.
Mastering the Art of Entrepreneurial Risk in 2023
Create Your Perfect Introduction: About Us Generator 2023
Embracing Failure: The Key to Sustainable Growth in 2023
2023 Shipping Rate Updates: What You Need to Know