Advertising Proposal Template & Examples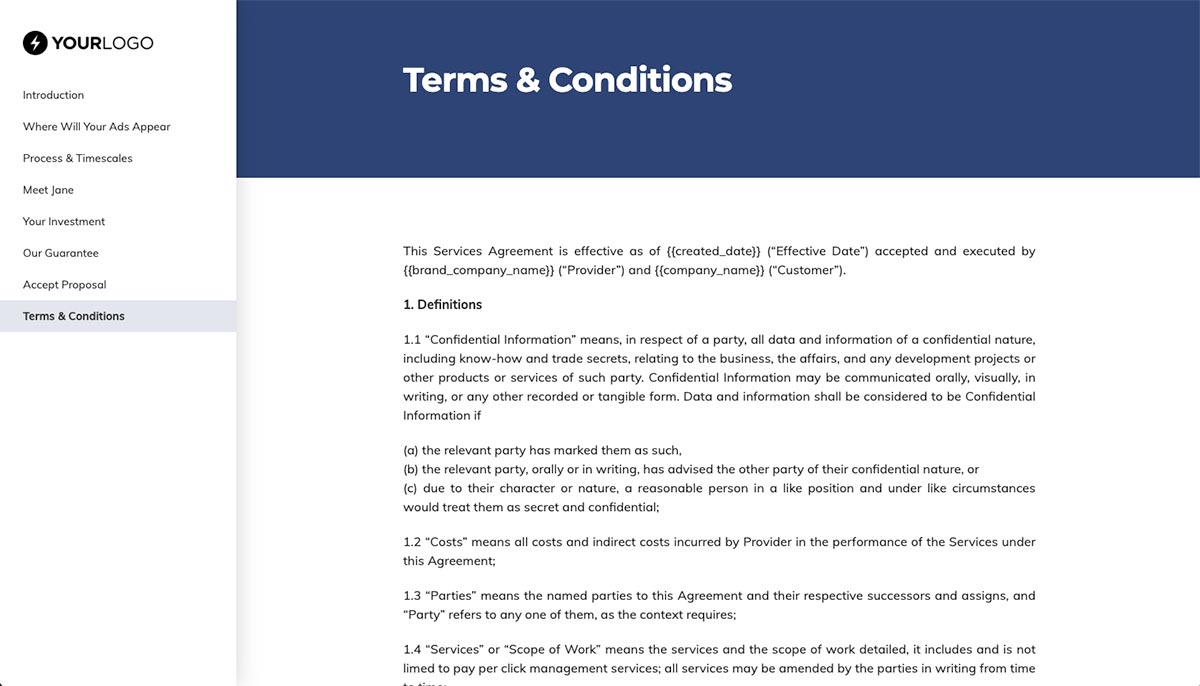 Creating a successful proposal for your advertising project can be difficult to do without the right guidance.
To help, we have compiled some templates and examples that will provide you with invaluable insights on how to write an impactful proposal that meets all of your goals.
Understanding An Advertising Proposal Template & Examples
Outline Target Audiences
An advertising proposal is a business document that outlines the goals and objectives of an ad campaign.
It should define the target audience, creative strategy, timeline, budget, and potential costs associated with running a successful campaign.
To build trust between clientele, it's important to be transparent about each step in production from start to finish.
Demonstrate Expertise
To create an effective proposal:
Outline target audiences
Demonstrate expertise in crafting strategies
Explain methods for execution
Emphasize timeliness
Highlight successes from previous projects
Designing An Effective Advertising Proposal Template

Identify Your Target Audience
Research your target audience's needs:
Structure the proposal logically, focusing on benefits rather than general product info.
Include consistent brand messaging throughout, with visuals for added impact (but not too much).
Executive Summary
End with an executive summary that quickly summarizes key points for decision makers:
Highlight the most important points and underline the key takeaways.
Make sure to keep it short and sweet.
Visuals & Endings
Use visuals to add impact, but don't overdo it.
End with an executive summary that quickly summarizes key points for decision makers.
Crafting A Compelling Advertising Pitch

Pitch an Advertising Proposal with Confidence
Establish credibility by showcasing relevant experience and data-driven statistics.
Define clear goals and objectives, such as increasing brand recognition or growing customer base, with measurable metrics like sales growth or ROI targets.
Explain your strategy: use the right mix of marketing tactics (e.g., digital promotion, TV ads) within a realistic timeline for each segment of the campaign launch cycle.
Quantify impact in monetary terms to show why investing is worthwhile; back up facts & figures with past successful efforts at similar scale if possible.
Pitch an advertising proposal with confidence and establish credibility to get the best results.
Utilizing The Power Of Visuals In Your Proposal

Visuals
Visuals can draw attention to key points and make proposals more memorable.
Images of products or services help prospects understand offerings quickly, while graphs and charts simplify complex data.
Motion graphics add professionalism and show you're up-to-date with trends in technology.
Videos communicate messages clearly, helping viewers stay engaged throughout the presentation – which typically increases conversion rates!
For maximum benefit from visuals, use high quality images.
Use them wisely and you'll be sure to make a lasting impression.
FAQ
What is the purpose of an advertising proposal?
The purpose of an advertising proposal is to convince a potential client to hire your agency for their marketing and advertising needs.
What should be included in an advertising proposal?
An effective advertisement proposal should include information about your company, target audience analysis, research on competition and market trends, creative strategy, media planning & amp; buying strategies among other things specific to each project
How long should my adverting proposal be?
Your advertisment proposals length depends on who you are presenting it too. When presenting the idea or pitch virtually through email we recommend keeping them shorter than 10 pages.