Post Purchase Email Template & Examples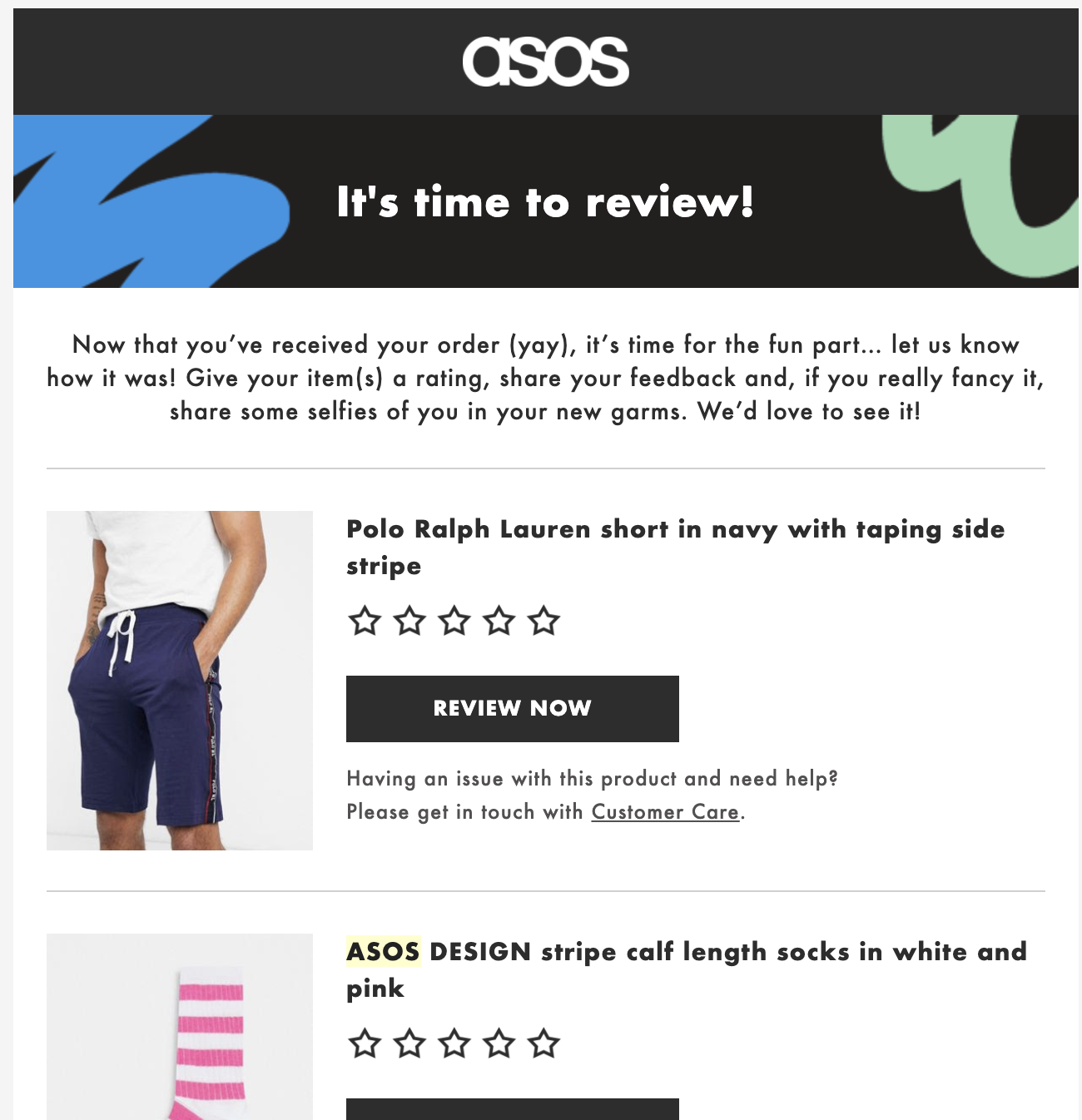 Post purchase emails are a great way for businesses to develop relationships with customers, provide useful information about their product, and encourage additional purchases.
This article provides an overview of the different types of post purchase email templates available as well as examples to help create effective post purchase emails.
What Is A Post Purchase Email Template
Post Purchase Emails
Post Purchase Emails are essential tools for businesses to thank customers, invite them back, show appreciation, and ask for feedback.
Plus, they share important info about products/services and build relationships that lead to loyalty.
These emails engage the customer after a purchase on your website or in-store, reminding them you're still there!
You can also use remarketing campaigns tailored towards each individual's interests based on past engagements with your company – building repeat business through promotions & special offers.
Not only do these messages leave customers feeling valued, but they help deliver helpful updates too — such as shipping notifications or product warranty details — which often get overlooked during checkout due to time constraints!
This extra service will be appreciated by loyal followers who want reassurance along their journey, increasing lifetime value over time via improved retention rates.
Making Post Purchase Email Templates Effective
To make Post Purchase Email Templates effective:
Personalize using simple demographics like first names
Include attachments such as tracking numbers
Invite direct feedback & reviews
Offer exclusive benefits discounts/bonuses
Show genuine care & appreciation
Post Purchase Emails are essential tools for businesses to build relationships that lead to loyalty.
Benefits Of Using Post Purchase Emails
Relevancy
Post-purchase emails are a great way to keep customers engaged and happy.
Tailor content around what they've purchased or show offers on similar products/services relevant to their journey with your brand for deeper engagement that encourages loyalty & conversions.
On-Brand Messaging
Keep consistent branding throughout all stages of communication, even after the transaction has taken place, leading to higher trust levels between consumers & retailers.
Cost Effectiveness
Post-purchase email campaigns have been proven to cost significantly less yet produce better ROI than traditional digital ads spend.
Benefits include:
Increased customer loyalty/retention rate
Staying top of mind amongst customers
Easily trackable metrics for campaign performance
Highly targeted content leads to better conversion rates
Faster time to market, making it a flexible solution
Post-purchase emails are a great way to keep customers engaged and happy.
They provide benefits from the moment your customer makes an online purchase, such as relevancy, on-brand messaging, cost effectiveness and more.
Crafting An Effective Post Purchase Email
Crafting an Effective Post-Purchase Email
Crafting an effective post-purchase email doesn't have to be daunting.
With the right strategy, you can craft emails that turn customers into brand ambassadors and generate more sales.
Personalize messages whenever possible for a better customer experience.
Provide value with tailored content or resources specific to each recipient's needs.
Offer discounts on future purchases or first-time buyer promotions as incentives for loyalty and repeat visits from new customers alike!
Timely Messaging
Always send appropriate, timely messaging relevant to individual recipients instead of generic information no one wants or needs - plus provide clear redemption instructions if applicable so everyone is happy in the end!
Use personalization wherever possible; adding someone's name & other identifying details like order numbers shows your customers their experience matters which encourages trust between both sides leading towards increased loyalty levels down line.
Benefits of Personalization
Better customer experience
Tailored content and resources
Discounts and promotions
Timely messaging
Clear redemption instructions
Increased trust and loyalty
What Great Post Purchase Emails All Have In Common
Post-Purchase Emails
To wow customers, send them personalized messages with relevant content based on their past shopping history or preferences.
Include product recommendations, coupons, special offers, or thank-you notes along with links back to your website for continued browsing.
Be honest about any problems encountered during the buying process, such as shipping delays or returns policies issues.
This builds trust, so they'll do business again in future transactions.
Interactive messaging encourages customers by rewarding them through activities like quizzes that lead to rewards after completion and social surveys related to topics from brand image among existing users and prospective buyers.
This eliminates user boredom when leaving feedback while getting bonuses too!
Strategies
Offering discounts/reward codes
Asking questions/giving surveys
Showing appreciation & gratitude
Incorporating games/quizzes into messaging
Focusing on polite problem solving
Post-purchase emails are a great way to increase customer loyalty and encourage repeat purchases.
How To Automate And Optimize Your Post Purchase Emails
Tailored Post-Purchase Emails
Post-purchase emails can be a powerful tool for businesses.
Automating and optimizing them is key to success.
Steps to Optimize
Create tailored post-purchase emails based on each buyer's needs and preferences, so they find the info quickly & easily.
Segment your audience by buying behavior or past actions with product/services; consider age group or other demographics too!
Use A/B testing techniques - send two versions of an email to compare click rates, conversions etc., then fine-tune messages until optimal performance is achieved from every version sent out
Use analytics tools like Google Analytics, Hotjar & Kissmetrics to understand what content resonates best before dedicating resources optimizing campaigns.
Follow up promptly after purchases have been made & monitor who opens these follow ups seeking additional interaction opportunities.
Incorporate social proof (reviews / Q&A pages) into automated campaigns.
Experiment with tone,language& incentives too!
FAQ
What is a post-purchase email?
A post-purchase email is an automated message that online retailers send to customers after they make a purchase, usually thanking them for their business and providing additional information or offers.
Why should I write a post-purchase email?
Writing a post-purchase email helps you build customer loyalty by showing your appreciation for their business. It also creates opportunities to upsell or cross-sell other products, gather feedback on the purchasing experience, and encourage positive reviews.
What should be included in my post-purchase email?
Your post-purchase emails should include thanks and gratitude towards the customer along with details of tracking number (if applicable), shipping time frames etc. You can also provide add-on / recommended products based on the user's previous order history as well as any discounts / coupon codes offered especially for returning customers