Real Estate Ad Template & Examples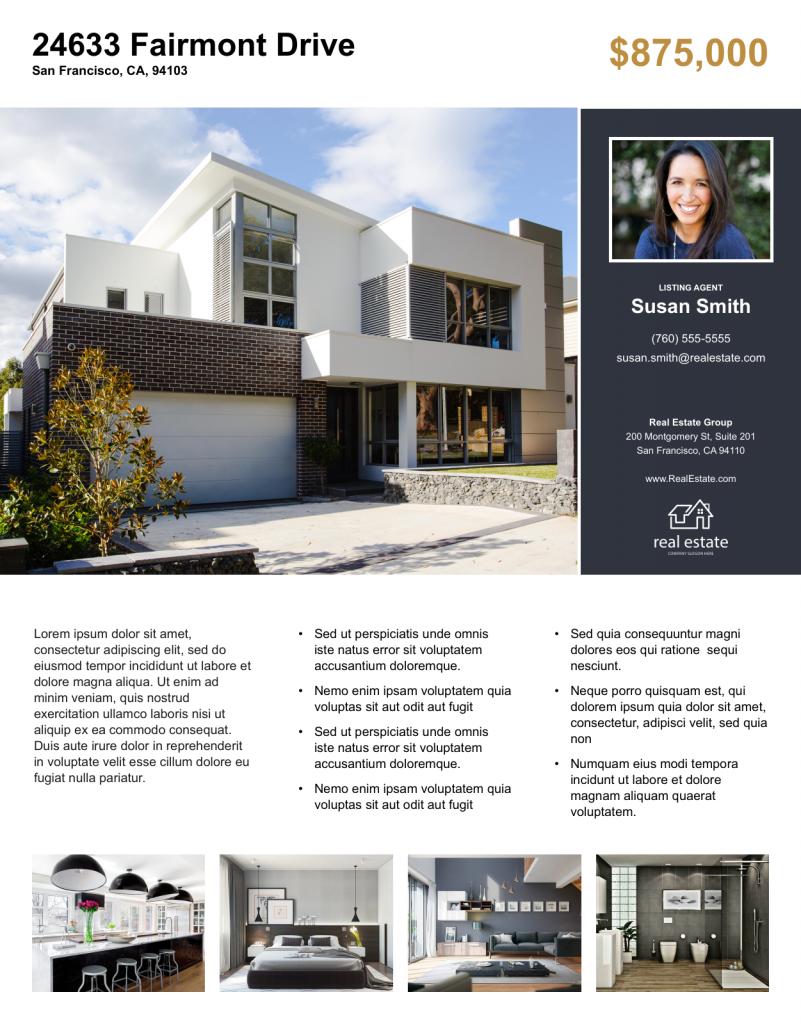 Real Estate advertising is a great way to increase visibility and help potential buyers discover your property.
But crafting effective ads can be challenging, so in this article we'll provide examples of successful Real Estate ad templates you can use for your own listings.
Understanding Real Estate Advertising Templates And Examples
Real Estate Advertising
Real estate advertising is a key part of the property market.
It's used to attract buyers and promote properties in print, radio ads, or online postings.
When done well, it can draw attention to available properties and generate leads for agents.
Creating Successful Real Estate Ad Templates
To get more leads and convert them into sales, create successful real estate ad templates with high-quality visuals like photos that tell viewers something about the location/area being advertised.
Start by understanding what elements make up an effective layout:
Text highlighted with complimentary colour schemes
Relevant images
Bold & legible typefaces
Contrast between lines
When creating your own template from scratch, use websites such as Canva or Adobe Spark Post App which simplify design processes by allowing you to focus on finding quality visuals instead of worrying about complex typesetting issues like font size or margin widths.
Include calls-to-action throughout advertisement material too!
Designing A Real Estate Ad With Engaging Copy
Designing an Effective Real Estate Ad
Creating an effective real estate ad is key to selling or renting a property.
Engaging copy and visuals will attract potential customers, so focus on gathering relevant information about the size, features, location, etc.
Then, create compelling copy that speaks directly to readers' interests and needs.
Use action verbs like "find sanctuary in this beautiful home" rather than general terms like "this house has two bathrooms."
Include several high-quality photos of local landmarks such as beaches or parks if they are close by.
People relate better emotionally when they can visualize their favorite activities nearby a property.
Videos also help add appeal - consider adding one with professional camera equipment!
Making Content Memorable
Compare similar properties using greater/lesser statistics from reliable sources
Highlight unique aspects such as architectural details
Utilize emotional triggers inspired by popular culture
Make your real estate ad stand out with compelling visuals and copy.
Incorporating Visuals That Stand Out In Your Ads
Incorporate Visuals
Incorporate visuals into your real estate ads to stand out from the competition and attract buyers.
Visuals quickly capture attention, so make sure they're eye-catching and high quality.
Here are tips for effective use:
Use professional photos of property being advertised
Include images featuring nearby attractions (parks/restaurants)
Supplement imagery with non-photo sources (infographics/diagrams)
Write engaging copy alongside visuals for added info
Stay within budget on stock photography services
For example, instead of writing '1 500 square feet', show off exactly how much floor area comes with each room - this makes it easier to comprehend by potential renters or buyers without having to say lots words!
Tips For Crafting An Impactful Selling Message
Craft an Impactful Real Estate Ad
Use strong words that create emotion, like "stunning" or "luxurious".
Include visuals to help prospects envision themselves living in the space and video tours for exploration without being there.
Promote yourself with contact info so they can quickly reach out if needed.
Showcase local customer reviews to build trust and confidence during land ownership decisions.
Make sure your message is easily understandable - it should be conversational yet informative, piquing interest while inspiring a feeling of settling into their new home right away!
Use strong words to create emotion.
Include visuals to help prospects envision themselves living in the space.
Provide video tours for exploration without being there.
Promote yourself with contact info.
Maximizing Your Real Estate Ads Reach With Targeted Audience Strategies
Develop an Accurate Buyer Persona
Identify preferences and interests to craft content tailored towards them.
Optimize Keywords
Research methods like Google Trends & other tools to optimize across search engine platforms such as Google Ads or Bing Ads.
Capitalize on Targeted Advertising
Use social media platform marketing services, such as Facebook's Business Manager section, Instagram Ad Platform, and YouTube Ad Manager, that match up seamlessly with existing SEO approaches for maximum effectivity when running real estate ads.
Maximizing your real estate ads reach with targeted audience strategies is essential for getting the most out of your ad efforts.
FAQ
What should I include in the headline of my real estate ad?
The headline should be attention-grabbing and highlight the key selling points, such as location, unique features or price. Keep it short and to-the-point.
How can I make my real estate ad stand out from others online?
Use high-quality photos that showcase the property's best features. Write a descriptive listing with detailed information about room sizes, amenities and nearby attractions.
Do I need to hire a professional writer or photographer for my real estate ad?
While you don't necessarily need to hire professionals for your ads, investing in good quality photography and well-written copy will definitely help attract potential buyers or renters.