Real Estate Bio Template & Examples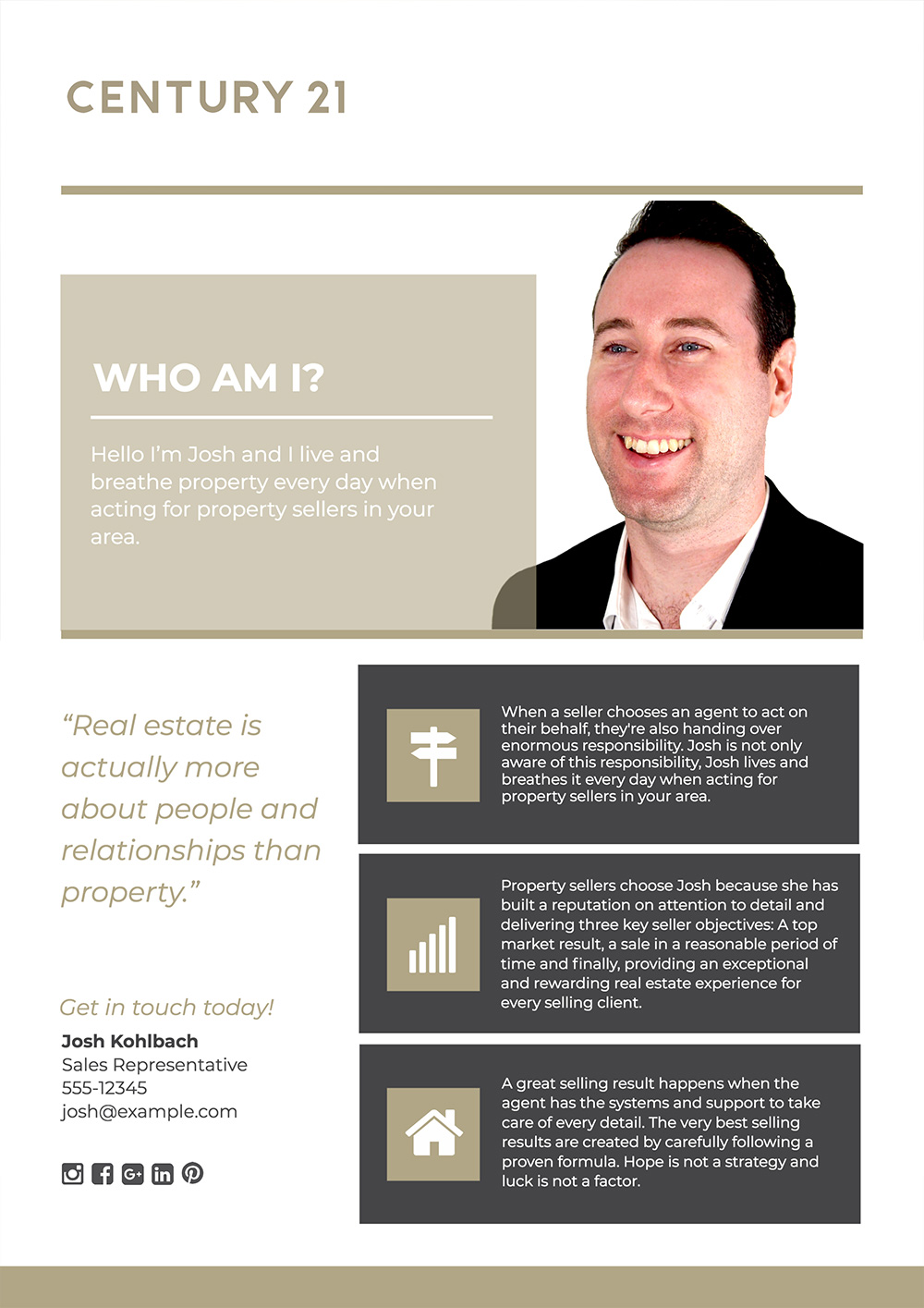 Real estate agents are an integral part of the real estate industry, and it is important for them to have compelling bios that capture their expertise in the field.
This article provides a guide on how agents can create effective bio templates as well as examples from some of the top realtors around the country.
With this information, agents can boast about their experience, accomplishments, and passion for helping clients achieve their real estate goals.
What Is A Real Estate Bio Template
Real Estate Bio Template
A Real Estate bio template is a tool used to create an informative profile for professionals in the industry.
It gives potential clients and customers an overview of who you are, what areas you specialize in, your experience within real estate, plus key highlights about yourself that may be beneficial when deciding whether or not to work with you.
Real Estate bios can range from simple one-page summaries focusing on qualifications and skillset to complex multi-page documents including details about background experiences.
The more comprehensive version should also include awards/achievements received during past employment opportunities as well as any additional certifications earned related specifically towards Real Estate practices.
It's important these templates contain a 'value proposition' - displaying why it would be worthwhile for future customers beyond just having expertise within Real Estate but something unique which sets them apart (e.g., bilingual capabilities; access/knowledgeability regarding certain locations).
All information must remain up-to-date so its relevancy & accuracy stay current over time – requiring consistent maintenance by updating job positions held along with relevant skillset rankings each year if applicable too!
Benefits
Quickly showcase professional credentials
Gain insight into specialities & areas of expertise
Attract prospective clients through tailored value propositions
Employers prefer written bios vs verbal descriptions during interviews
Real Estate bios can help you stand out from the competition and attract more clients.
Crafting An Effective Real Estate Bio
An effective real estate bio can make all the difference for business success.
Crafting a unique profile that communicates who you are and what you do as a realtor is key to connecting with potential clients, gaining visibility in your community, and building a successful business.
Here's how:
Introduce yourself - Include name, location, specialties or areas of expertise up front so readers immediately recognize where they fit into this equation
Use compelling language – Write something eye-catching to draw people in.
Keep it professional yet engaging by thinking outside traditional industry jargon!
Consider including awards/testimonials – If possible (and legally allowed), include any noteworthy accolades such as national recognition for customer service quality standards achieved during previous years
Add fun tidbits not related directly to work - What makes you stand out from other professionals?
Do you volunteer frequently?
Are there hobbies which may add extra interest points readers find attractive?
All these elements provide details regarding who YOU are beyond just being another person working on someone's property transaction endeavors!
Accurately reflect desired message & focus heavily on client successes & services provided
Keep punchy sentences short & concise
Pay attention to small details like proper grammar
Crafting an effective real estate bio is key to connecting with potential clients, gaining visibility in your community, and building a successful business.
By introducing yourself, using compelling language, considering awards/testimonials, adding fun tidbits, accurately reflecting your desired message, and paying attention to small details, you can craft an effective real estate bio that will help you build a successful business.
Components Of A Successful Real Estate Bio
Essential Elements of a Successful Real Estate Bio
A successful real estate bio should include essential elements that make your profile stand out.
Consider these five components:
Professional headshot – Show potential clients how approachable you are with a well-lit, tasteful photo of yourself - just like they'd see at an open house or business meeting!
Short summary – Capture attention without overwhelming readers by summarizing who you are and why someone ought to choose your services over competitors'.
Areas of expertise & experiences – Highlight any areas where you have experience (such as neighborhoods) plus important certifications so prospects know from the start that your knowledge is above par compared with other agents'.
Include testimonials from past clients for credibility and success stories for future customers too!
Social media links – Share relevant social media profiles such as LinkedIn, Facebook, Instagram etc., directing readers towards more comprehensive information if desired about awards won etc.
Call to action – Provide contact details including email addresses, phone numbers & website URLs.
The main purpose of writing bios in first place is connection; this way prospects can easily reach out and take advantage of opportunities available through working together!
Make sure your real estate bio stands out and captures attention!
By including these five components, you can ensure that your real estate bio stands out and captures attention.
A professional headshot, short summary, areas of expertise and experiences, social media links, and a call to action are all essential elements of a successful real estate bio.
Examples Of Great Real Estate Bios
Tina Smith
Tina Smith is a top-producing realtor with 15+ years of experience in the Raleigh-Durham area.
She listens closely to her clients' needs and goes above and beyond for exceptional customer service, whether they're buying their first home or looking for investment properties.
Mark Anderson
Mark Anderson has 8+ years as a multi-state licensed Realtor specializing in helping buyers find dream homes within budget constraints.
He uses local expertise plus proven negotiation tactics to get his clients favorable terms while making it stress free and fun!
Alex Chang
Alex Chang passionately helps families make smart investments through homeownership opportunities.
He covers south Florida up to North Georgia's rural retreats and lakefront estates.
His extensive analytics and research approach, combined with personalized client care, allows him to quickly sift through vast property inventories.
He focuses on options tailored specifically around each family's unique needs and goals.
He provides a zero-pressure atmosphere, where customers can move confidently towards sound long-term personal wealth gains decisions.
Professionalism remains at heart, offering a low-pressure environment centering family firms' needs and goals.
He has an impressive track record, enabling confident decision-making towards secure financial benefit gains.
Takeaways For Creating Your Own Successful Real Estate Bio
Crafting a Successful Real Estate Bio
Keep it concise and informative, no more than 500 words.
Include portfolio photos of different types of properties to show your expertise.
Mention relevant awards or accolades earned over one's career - three at most - for insight into what makes you stand out from other agents.
Finally, get another professional in the industry to review before publishing online; they know best how the market works!
Showcase your expertise with images too!
Highlight your achievements with a list of awards and accolades.
Include:
Awards won
Certifications earned
Publications or articles
FAQ
What should I include in my real estate bio?
Your real estate bio should include information about your background, experience, areas of expertise, and any awards or recognitions you have received.
How long should my real estate bio be?
Your real estate bio can vary in length depending on the platform it will appear on. Generally speaking, bios for social media platforms like Twitter and Instagram are shorter than those for websites or brochures.
How do I make my real estate bio stand out?
To make your real estate bio stand out, try to inject some personality into it while keeping a professional tone. Showcase what makes you unique as an agent and highlight any special skills or achievements that set you apart from others.