Real Estate Flyer
Real estate flyers are an effective and efficient way to advertise properties for sale.
They provide clear visuals, concise information about the property and can be distributed quickly to a mass audience.
This article will give you tips on how to create real estate flyers that stand out and capture buyers' attention.
What Are Real Estate Flyers
Real Estate Flyers
Real estate flyers are an essential part of a successful marketing campaign.
They provide potential buyers, sellers, and renters with information about the property to draw attention and increase interest in the listing.
Flyers help attract people who may be interested by providing basic details such as location, price range, and features available on site.
Agents can make their listings stand out from others through real estate flyers that showcase photos of interior/exterior scenes.
This demonstrates what makes this home special, like updated appliances or desirable views of nearby parks/amenities.
Additionally, they serve agents' overall branding strategy:
Customized logos & colors across multiple properties
Contact info for customers wanting more specifics before attending showings
QR codes directing recipients online via social media platforms, if applicable
Benefits Of Utilizing Real Estate Flyers
Real Estate Flyers: An Effective and Efficient Way to Reach Potential Buyers
Real estate flyers are an effective and efficient way to reach potential buyers.
They provide a cost-effective option for agents wanting to market their listings locally.
Flyers can also be used as part of larger marketing efforts, such as email campaigns or social media ads.
Flyers are a great way to quickly spread your message without breaking the bank.
Benefits include:
Providing valuable information about your listing(s)
Allowing people who don't have access to online tools (or regularly check them) easy access to important property info like location, pricing details, images and videos that attract attention more effectively than text alone
Reaching targeted audiences efficiently
Affordability yet high effectiveness in crafting content with visuals included
Flexibility when it comes creating content
Ease of distribution through multiple channels
Designing A Professional Flyer
Create a Professional Real Estate Flyer
Stand out from the competition with a professional real estate flyer.
Establish a clear layout and organizing principle, such as "location first" or "price first" for quick engagement.
Use bold font heads and bulleted lists to break down text into manageable chunks that are legible on phone screens or printouts.
Include sharp images of inside & outside - avoid blurry amateur shots!
Keep it concise yet informative so customers get what they need before deciding whether further contact with you would benefit them more than just browsing online listings blindly.
Tips For Writing Effective Copy On A Flyer
Write Effective Copy
Writing effective copy for your real estate flyer can help capture potential home buyers' attention.
Focus on what makes the property unique and attractive, as this can make all the difference in whether prospects take action or not.
Keep it simple: no fluff!
Use descriptive verbs instead of boring adjectives like gorgeous - words like inviting, comfortable, or luxurious sound more exciting when describing features of a house being sold.
Create Catchy Headlines
Create catchy headlines that stand out from competitors
Keep text short (less than one sentence whenever possible)
Use vivid language to paint pictures
Tell engaging stories about neighbourhood value propositions clearly – be honest about flaws/negatives but explain why it still works.
Make your real estate flyer stand out with effective copy and catchy headlines.
Be Honest
Be honest about the flaws and negatives of the property, but explain why it still works.
Use short sentences and vivid language to paint pictures and tell engaging stories.
Importance Of Graphics And Photos In Your Flyer
Graphics and Photos
Graphics and photos are essential elements of effective real estate flyers.
They represent the property in a way that words simply can't, illustrating possibilities and creating an emotional connection with prospective buyers.
High-quality visuals help to stand out from the competition while showcasing your professionalism as an agent or broker.
With impressive graphics and photos on your flyer, potential buyers can visualize what it would be like living there.
Grand windows, doors leading off outdoor patio space, etc. allow people who will never visit to gain insight into how great it is.
Benefits
Visual appeal making flyers attractive
Showcasing interesting details about properties not expressed by words
Helping customers feel emotionally connected before they buy
Demonstrating professional look & quality portfolio of listings
Increasing brand awareness among prospects through high-quality images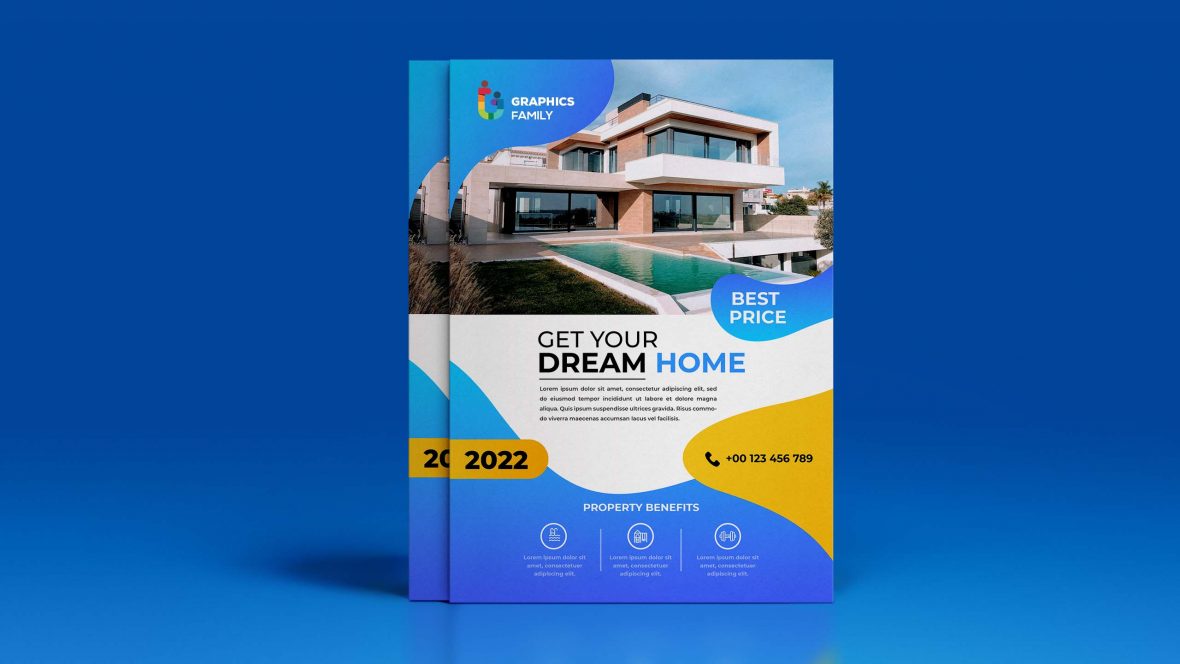 Strategies To Maximize Distribution Efficiency
Maximize Impact
Target high-traffic areas to maximize the impact of your real estate flyers.
Consider parks, malls, busy streets and other public places – just make sure to follow city ordinances when placing them!
Bulk Printing
For larger campaigns, use direct mail solutions or enlist professional delivery services such as door hangers or printed newsletters.
Bulk printing can also lower costs per flyer significantly for longterm ROI potential.
Make sure to track performance metrics over time for best results.
Online Platforms
Use online platforms like social media too.
Analyzing The Results Of Your Mailers
Analyzing Results
Analyze the results of your mailer campaign to determine its success.
Examine how many leads each flyer design generated and identify which elements made them successful potential leads.
Review all responses for insight into customer behavior and preferences towards offers presented on the flyers.
Conduct surveys with those who responded, or reach out directly by email/phone call if they didn't respond initially.
This will help you gain further understanding of their needs & desires when it comes to real estate services like yours.
Tracking Activity & Assessing ROI
Track activity & assess ROI (return on investment) including:
Feedback about designs
Effectiveness of offers/promotions outlined
Number of new inquiries per month
Analysis exchange throughout process
Gain insight into customer behavior and preferences to optimize your mailer campaign.
Alternatives To Paper Flyers
Advertising Real Estate Online
Advertising real estate online is becoming increasingly popular.
Social media offers creative, interactive ways to reach potential buyers.
Copy and hashtags captivate buyers.
Email marketing campaigns are also effective.
Eye-catching graphics quickly deliver property images, prices, and contact info directly into interested buyers' inboxes.
Plus, you can track customer interaction for better monitoring of your efforts in obtaining leads.
Other Options
Other options include:
Google Adwords ads
QR code flyers/posters
Text messaging campaigns
Best Practices For Tracking Response Rates
Unique Codes
Track response rates to real estate flyers with unique codes, URLs, or phone numbers.
Call-to-Action
Make call-to-action steps clear and add time restrictions for urgency.
Separate URLs
Track clicks from different locations independently using separate URLs.
Follow Up
Monitor all calls and web responses related to each code.
Follow up immediately when potential buyers reach out.
Stay on top of response rates with unique codes, clear call-to-action steps, and separate URLs.
Stay organized and responsive with tracking and follow up.
This will help you close more deals and get more leads!
FAQ
What information should be included in a real estate flyer?
Property address, price or rent amount, property features and descriptions, high-quality photos of the property.
How can I make my real estate flyer stand out?
Use bold headlines to grab attention. Use professional photography. Make sure your design is clean and easy to read.
What are some common mistakes to avoid when creating a real estate flyer?
Using low quality images or graphics; including too much text on the page; neglecting to proofread for spelling errors.