Real Estate Listing Template & Examples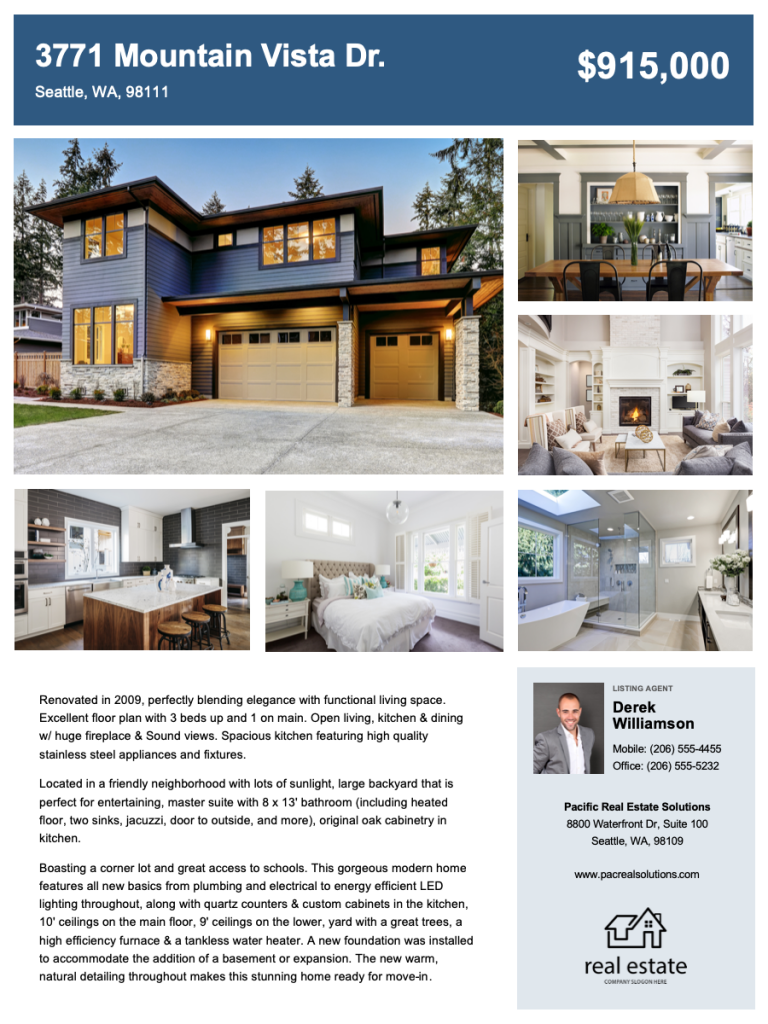 Real estate listing is a great way to market yourself and your properties, but creating eye-catching listings can be difficult.
This article will provide you with helpful tips and template examples on how to write effective real estate listings that draw the attention of potential buyers.
What Is A Real Estate Listing Template
Real Estate Listing Template
A real estate listing template is a document used to create and publish property listings for potential buyers.
It helps agents, brokers, and other professionals quickly assemble detailed information about the home or investment property they are offering.
By using a standard format that provides all of the necessary details in one place, list owners can ensure accuracy while making their properties more attractive to prospective customers.
You should include photographs of inside and outside views along with contact info such as agent names, websites & phone numbers; plus key data points like square footage figures; bedroom/bathroom totals; roof type; heating system age & bulkheads etc.
This makes it easy for potential customers to compare various available homes side-by-side without having to read through long descriptions written by sellers or marketers – who may be biased on behalf of their clients!
Benefits include:
Quick comparison between options due to standardized content
Saving time across markets
Photos capture attention from readers
Benefits Of Using A Real Estate Listing Template
5 Benefits of Using a Real Estate Listing Template
Using a real estate listing template can save time and energy, while providing peace of mind that details are accurate.
Here are five key benefits:
Standardized information formats ensure accuracy in spelling and essential facts about the property (e.g., price or number of bedrooms).
Predetermined spaces for photos mean images look perfect each time with consistent graphical elements across multiple listings from one agency/broker.
Contact info prominently displayed at the bottom along with company logos, so clients know who posted their ad.
Unique tags link back to your business website, allowing consumers to find additional info if desired.
Professional language usage & formatting techniques make potential buyers more likely to trust whichever agent originally posted items being viewed.
A real estate listing template can help you save time and energy while providing peace of mind.
Using a real estate listing template can help you create professional-looking listings that are accurate and easy to read.
Choosing The Right Real Estate Listing Template For Your Needs
Choose the Right Template
Choosing the right real estate listing template is essential for maximizing potential.
Consider what type of property listings will be featured: limited-time offers or long-term rentals?
Check if customization is possible, such as customizable sections and easy data submission from agents.
Review content performance metrics to see how well it works in practice.
Look out for user experience features like intuitive navigation and search filters.
Explore price & subscription plans that fit your budget needs too!
Customization & Performance
Customizable sections
Easy data submission from agents
Content performance metrics
User Experience
Intuitive navigation
Search filters
How To Write An Effective Real Estate Description
Craft Real Estate Descriptions
Craft real estate descriptions that highlight the most attractive aspects of a property.
Use details to stimulate all five senses: sight, smell, and touch/feel.
Paint vivid pictures with words like light-filled, inviting or comfortable to create pleasant associations in readers' minds and make them feel at ease investing in the property.
Describe how people will live rather than list features; use active verbs for energy and movement (e.g., swim and sun by day).
Avoid vague language (lovely patio) and overselling amenities nearby without hyperbolic claims.
Make sure each sentence conveys something meaningful - no fluff!
Tips for Writing Real Estate Descriptions
Paint vivid pictures with words
Describe how people will live
Use active verbs for energy and movement
Examples Of Good And Bad Real Estate Descriptions
Real Estate Descriptions
Good real estate descriptions can make a huge difference in convincing an interested party to purchase or rent a property.
Keep them short and sweet, accurate with measurements, full of high-quality photos that speak louder than words, professional yet appealing in tone - plus creative details like outdoor grilling areas and jacuzzi tubs!
Advertise your beach bungalow by mentioning that the living room overlooks miles of crystal blue ocean water and spectacular sunsets – far superior than any view seen at neighboring resorts!
This description draws attention away from other properties while giving potential buyers something money cannot buy – peace of mind knowing they're making an investment worth their while.
Tips For Writing Clear And Concise Listings
Writing a Clear Listing
Writing a clear and concise listing is essential to capturing the attention of potential buyers.
Follow these tips for success:
Avoid unnecessary fluff – Stick to relevant information that will be useful for prospective buyers
Include important details – Don't forget basic elements like room size, number of bedrooms/bathrooms, as well as helpful additions such as nearby schools and transportation options
Bold and highlight key points – Present details with precision by bolding or highlighting certain parts that stand out from the rest (e.g., if you were advertising a 4 bedroom home mentioning how two are en suite).
Additionally, use bullet points so readers can easily scan through info without getting bored quickly while still delivering important facts efficiently.
Use strategic descriptors – Describe your property beyond just measurement numbers; words evoke emotions which brings an intangible value some buyers might need in order get them interested further than just seeing pictures or diagrams on paper alone (i.e. walkable community vs close access bus routes).
Just don't go overboard here else it will seem overly focused trying too hard.
Writing a clear and concise listing is essential to capturing the attention of potential buyers.
Creating a listing that stands out from the rest is key to success.
Use these tips to make sure your listing is attractive and informative.
Estimated Costs Of Creating Professional Grade Listings
Professional Photography & Video
Creating professional-grade real estate listings can be costly, depending on the services chosen.
This includes hiring professionals for photos and videos.
Professional photography & video costs range from $200-$400+ per hour.
Rented Furnishings
Rented furnishings used for staging cost around $500 -$800.
Editing Fees
Editing fees associated with post photo shoot work are approximated at 25% of total budget plus expenses incurred along the way (e.g., additional touring time).
Make sure to factor in editing fees when budgeting for real estate listings.
Open Houses
Setting up open houses requires vendors estimated to add 10%-15% to your budget.
Freelance Copywriters
Freelance copywriters start at about $15 an hour if needed for marketing activities.
Hiring freelance copywriters can help you create engaging real estate listings.
Making Use Of High Quality Photos In Your Listing
High-Resolution Images
Use high-resolution images to attract buyers and stand out from other listings.
Professional Photographer
Select a professional photographer with experience in real estate photography to capture the best details of any home or property accurately.
Creative Shots
Incorporate creative shots like wide angle exterior views for larger properties and interior photographs that show off specific rooms or elements more prominently.
Aerial photography presents unique perspectives on what your listing looks like right away!
Make sure to consider aerial photography if allowed.
Optimizing Your Property With Compelling Words & Visuals
Craft a Compelling Description
Craft a compelling description for each listing.
Include keywords that accurately describe the home, such as spacious or vaulted ceilings.
Use creative language to evoke emotion and make potential buyers feel connected with their future home.
Highlight features and benefits, showcase lifestyle opportunities, use bright photography, incorporate interactive tours — all of these will help optimize your listings for maximum interest!
Here are some tips to help you craft a compelling description:
Focus on the features and benefits of the home
Include keywords that accurately describe the home
Use creative language to evoke emotion
Make potential buyers feel connected with their future home
FAQ
What are the key components of a real estate listing?
The key components of a real estate listing include: property address, price, number and size of rooms (bedrooms and bathrooms), lot size, square footage, special features such as outdoor space or updated appliances. It's also important to provide high-quality photos.
How should I highlight the best parts of my property in the listing?
To highlight the best parts of your property use descriptive language that will appeal to potential buyers. Use phrases like 'stunning views' or 'beautifully remodeled kitchen'.Be sure to mention any unique features as well such as original hardwood floors or an expansive backyard.
Should I hire a professional photographer for my real estate listing photos?
Yes! High quality photos can make all the difference when it comes time to sell your home. A professional photographer has experience with lighting and composition which can really bring out the beauty in