Webinar Emails
A webinar email is a powerful tool to help your business or organization reach its goals.
With the right strategy, your emails can engage with potential customers, generate leads, and ultimately increase revenue.
This article will provide an in-depth look at how you can successfully craft and deploy webinar emails for optimal engagement.
Introduction To Webinar Emails
Writing Webinar Emails
Your goal is to webinar emails that drive attendance and engagement.
Use visuals to create impactful subject lines, grab attention, and encourage action.
Showcase topics discussed in the event so potential audiences can decide if it's worth attending or not.
The right design layout with imagery will help establish meaningful relationships between attendees & companies while delivering credibility & brand consistency across all marketing channels - helping businesses stand out against competitors within their sector/industry fields.
Tips for Crafting Webinar Emails
Create strong subject lines
Include compelling visuals
Be concise yet powerful
Connect viewers with themed images
Make sure your webinar emails stand out and engage your audience.
Visuals are key to creating an impactful email.
Use visuals to showcase topics discussed in the event and to grab attention.
This will help potential audiences decide if it's worth attending or not
Crafting An Effective Subject Line
Crafting an effective subject line is the most important part of email outreach for webinars.
It grabs readers' attention and compels them to open your message.
Here are five tips to make yours stand out:
1. Use action words like discover or unlock. This hints at potential new information without giving too much away upfront.
2. Create intrigue by not revealing everything in the title – leave something for viewers to find out once attending!
3. Personalize with company name, but don't be misleading about expectations from joining the webinar.
4. Test different variations until you find one that increases opens & registrations best according circumstances specific situation at hand.
5. Make sure people understand what will be discussed within seconds - they won't have long before moving on!
Personalizing Your Webinar Invitation Email
Personalize Your Webinar Invitation Email
Personalizing your webinar invitation email is a great way to boost attendance and engagement.
When customers see you've taken the time to create an individualized message, they're more likely to read it.
Here are some tips for crafting effective personalized invitations:
Start with a catchy subject line - Capture attention quickly by creating an intriguing headline that encourages recipients to open your message in just a few words.
Keep it clear and concise!
Include personal details - Let attendees know why you chose them specifically for this event – whether due their job title or past interactions with your brand – explain how this applies directly instead of sending generic emails each week.
Make sure each includes relevant info from prior contacts (e.g., name/title).
Highlight unique benefits - Show prospects what they can gain from attending like learning new skills or connecting with industry professionals who could help improve their business over time; providing extra incentive beyond "seeing what happens" at the gathering!
Offer helpful resources such as bonus materials or guest speakers list
Follow up after registration confirmation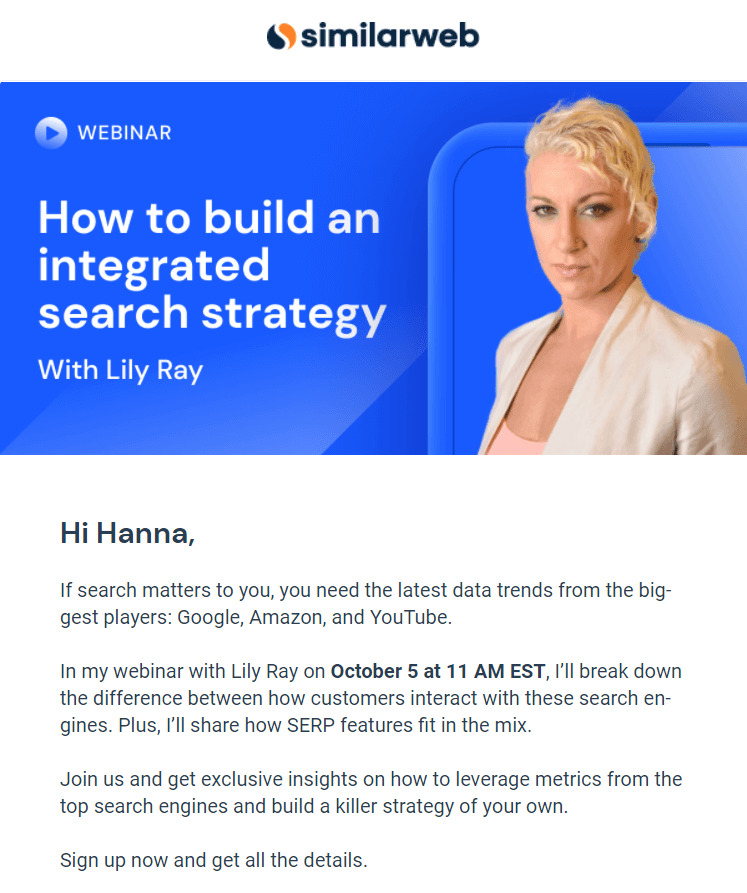 Personalizing your webinar invitation email is a key way to increase attendance and engagement.
Writing an individualized message shows customers that you care and encourages them to read it.
By following the tips above, you can create an effective personalized invitation that will help boost attendance and engagement.
Formatting And Styling The Body Text
Choose one sans serif font, such as Arial, that is easy to read in various sizes and against different backgrounds.
Make sure the font size is large enough for mobile devices.
Use bold typeface sparingly but effectively — it helps draw attention quickly without making it overly conspicuous so readers can still focus on main messages easily.
Include generous margins and padding between content items including graphics/images; this will help separate sections within an email message more clearly than ever before!
Employ natural flow with line breaks and column widths to ensure balance amongst textual components.
Aim primarily towards clarity - strive for maximum understandability so readers can understand your content quickly and easily
Call To Action That Gets Results
Craft a Clear, Compelling Call-to-Action
Push recipients closer to signing up or attending with prominent visibility and easy action steps.
Test different options — words, imagery, placement — for maximum engagement from subscribers.
Track metrics like click rate and conversion rate to determine success over time.
Adjust structure as needed for better customer engagement long term!
Create urgency using words like "now" or "today."
Keep it simple: one goal per CTA.
Compel customers by reminding them why they should attend via headlines that emphasize value proposition and offer benefits in the content itself — be specific about expected outcomes and time frames too!
Optimizing Your Webinar Email For Mobile Devices
Mobile optimization is essential for webinar emails.
Over half of all emails are opened on mobile devices, so it's important to make sure your invites look great and function properly no matter the device used.
Keep text short and simple; avoid long phrases or complex words that can be hard to read on small screens.
Include a clear call-to-action (e.g., Click Here To Register Now!) so recipients know what action needs to be taken quickly without confusion or delays in connecting from their device.
Images must also scale correctly when viewed on phones/tablets - otherwise too much detail may get missed if sizes aren't right due improper content block sizing within one display viewport field available.
Ensure graphics show up clearly regardless of PC desktop vs smaller social media app interfaces across different handheld digital devices
Scheduling Considerations When Sending Out A Webinar Invite
Schedule Invites Ahead of Time
Schedule your webinar invites ahead of time to ensure they arrive at different times during the day.
Give people enough notice between receiving their invite and registration closing date.
Not everyone opens emails right away or takes action immediately.
Consider industry standards when deciding how far in advance you should send out invitations.
Corporate jobs may need shorter notification periods (e.g., weeks) while independent professionals could use longer ones (up-to 2+ months).
Utilize Existing Contact Info
Utilize existing contact info by only inviting those already familiar with your business.
Make sure all protocols followed adhere to legal requirements such as GDPR regulations.
Setting Up Automated Emails For Pre Webinar Reminders
Automated Emails
Send automated emails to increase engagement and remind people about the webinar.
Decide how many you want, and when each should go out:
Two days prior
One day prior
An hour before
Make subject lines intriguing and engaging, and keep content brief but captivating!
Include incentives in your last pre-webinar email for a sense of urgency among potential registrants who haven't decided yet.
Just make sure it complies with industry regulations regarding promotions.
FAQ
What should be the subject line of a webinar email?
The subject line should be attention-grabbing, concise and informative. It must give an idea about what the webinar is about.
When to send reminder emails for a webinar?
Send first reminder 3-4 days before the event, second reminder on the day before or same day (if it's in afternoon), and third/email blast just hours before start time
How long should a promotional email for a Webinar Be?
A promotional e-mail shouldn't take more than five minutes to read since people have limited time these days. But if you do add something longer make sure it's worth reading